Research Proposals Progress to Next Stage
AUSTRALIA - Poultry CRC research for 2010 onwards is now that much closer with members of the Science Committee and End-User Advisory Committee now finalised.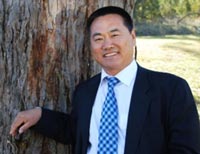 Professor Mingan Choct
In the latest issue of E-Chook News, Poultry CRC CEO, Professor Mingan Choct, writes:

The selection process for research proposals is merit-based, as it is in the current CRC. Research proposals will be assessed on the basis of their scientific merit by the Science Committee and then assessed by the End-User Advisory Committee in relation to the applicability and utility of the proposed research to industry and other end-users. As usual, the final decision will rest with the CRC Board.

The membership of the Science Committee comprises the CRC's Research Manager, Program Managers, CEO, the Chair of the End-User Advisory Committee and experts in the areas of food safety, environment, diagnostics, vaccines, eggs and welfare. Membership of the End-User Advisory Committee includes representatives from the various industry sectors, namely egg, chicken meat, turkey, breeders and vaccines.

These committee structures reflect the Poultry CRC's end-user focus, which we will uphold in every aspect of our operation.