Warning of Traditional Christmas Turkeys Shortage
UK - With reduced placing of turkey poults on farms this summer there could well be a shortage of traditional Christmas turkeys, forecasts leading UK producer, Paul Kelly.
Producers made decisions on the size of their poult orders early in the year when the recession was at its gloomiest, and many cut back on their placements.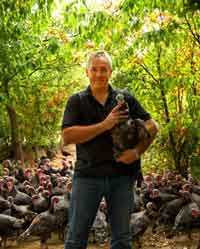 Paul Kelly among his free-range KellyBronze turkeys
Early in the year, too, the major retailers dramatically cut their orders for premium fresh turkeys, says Mr Kelly, managing director of Kelly Turkeys at Danbury, Essex.

"They are now thinking: Did we make the right decision?' They will be short of them this Christmas. Turkey prices have remained static making them very good value over other Christmas meats, and the restaurant trade is anticipating another year of people treating themselves to a feast at home.

"Our butcher customers are currently ordering the same as last year, and we do believe our farmgate sales will increase. I am confident of a good trading Christmas."

He adds that their sales records show that during the early 90s when the economy was in deep recession sales from the farmgate did not drop, with most people not prepared to compromise the festive feast.

The good news for consumers is that prices generally are not likely to show any increase this year, with Kelly Turkeys holding their 2008 prices. A free-range KellyBronze will be retailing at the farmgate at £52 for a 5kg (11lb) bird.