Which Came First: the Chicken or the Coupé?
US - Two global companies in contrasting industries - Pfizer and BMW - came together briefly this fall in a bid to strengthen innovation and exchange business strategies.
Staff from Pfizer Poultry Health (PPH), a unit of Pfizer Animal Health, made a site visit to the BMW Manufacturing Co. in South Carolina, with the goal of learning how BMW customises production for each individual customer.

And though Pfizer Poultry Health will not be looking to increase vaccination speed from zero to 60 in three seconds, PPH director of Engineering and Manufacturing, Joel Harris, said BMW provided a number of insights into production that can be applied within the poultry division.

Mr Harris said: "BMW is a world class operation and has implemented a number of dynamic strategies which we can look at modifying and applying to our own business model. With manufacturing and production being a core part of Pfizer Poultry Health, it was worthwhile to witness how BMW manages customer-focused production and empowers their technicians to continually innovate and improve the process."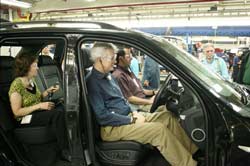 Approximately 18 PPH staff toured the manufacturing facility, seeing first-hand how various vehicle components are manufactured individually before being brought together into one unit. The staff were also given a behind the scenes view into various workplace management programmes.

Lynn Murray, director, Continuous Improvement, said BMW has put a lot of effort into making its assembly plants more efficient, through practices such as continuous improvement, supplier management and a focus on custom assembly and quality.

Ms Murray said: "Despite the end product differences between the two companies, the process that leads to the latest V8 engine or a vaccinated egg is surprisingly similar. The site visit held real value in terms of ideas exchange, and provided us with some strategies we can use within our own business, not just in production but in everything we do."

Ethan Fricklas, programme manager in Biodevices Research and Development, said the two companies share a number of synergies when it comes to innovation.

Mr Fricklas said: "Both companies are industry leaders in terms of developing new technology, and by learning from each other, as we did during this visit, we can continue to implement new ideas that will lead to new discoveries and advances."

A key commitment aligning the companies is their individual dedication to innovation and customer care, said Nandini Mendu, Director of Biodevice R&D.

"We will now look to implement some of the key learnings within our own business model, and will potentially hold similar visits in the future."