Ross Parent Stock Shines in Slovenia
SLOVENIA - The annual Ross-Perutnina Ptuj Parent Stock Seminar, jointly organised by Aviagen and their Slovenian customer, provided the platform to showcase the ever-improving performance of the Ross 308 within Perutnina Ptuj with the presentation of the Ross Flock Awards.
Farm manager Ana Jeza scooped the coveted Best Ross Parent Stock Flock Award and achieved the remarkable result of 144 day-old-chicks to 60 weeks. This superb achievement demonstrates the outstanding performance which is possible through the combination of excellent genetic potential, effective on-farm management and the innovative and knowledgeable technical support from the Aviagen customer focus team.

The seminar was attended by Perutnina Ptuj representatives from Slovenia as well as from their business units in Serbia and Bosnia and presentations included an update of the European broiler meat market, helpful advice on maximising financial returns through good breeder management and leg health talks from a nutritional and veterinary perspective. Presentations were given by Neil Clark, Technical Service Manager for Eastern Europe and Jonny Harrison, the Technical Director for the area.

Commenting on the event, Jonny Harrison, Regional Technical Director, said: "We are delighted with the success of the Ross 308 product in Slovenia and the results produced by Ana Jeza provide tangible evidence of the consistent progress and excellent returns customers receive from their Ross stock.

"Our Flock Awards are a good benchmarking tool to show how well our products are performing and they are very helpful to our customers as they only use actual field data, thereby showing the real picture. By sending product performance data to us, not only are our customers helping us but they are also helping themselves because it allows us to focus our advice and product development on areas of specific importance to the local market."

To underline this, Neil Clark, Technical Service Manager, added: "The presentations and information given were carefully chosen for this particular audience and region. All the attendees got a great deal from the day and felt they had learned things that were not only interesting but relevant to them and the growth of their business."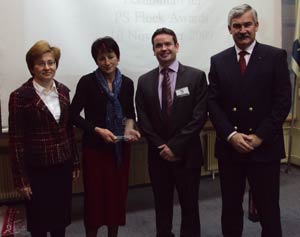 left to right: Milena Valant-Majcen (Production Director, Ptuj), Ana Jeza (award winner, Ptuj), Neil Clark ( Technical Service Manager, Aviagen) and Slavko Visenjak (Executive Production Director, Ptuj)