Serbian Symposium Overcame the Odds
SERBIA - More than 300 participants took part in the annual Serbian poultry congress, where Cobb Germany and its distributor Iradia, overcame the impact of harsh weather and a power cut at a venue in the Tara mountain region during a symposium about the latest developments from Cobb.
Severe gales and snow storms affected the former military hotel on the opening day and disrupted the electricity supply, so that the only power was from a generator and much of the event was lit only with candles.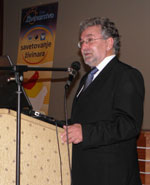 above: Dr Marek Pospiech, technical consultant for Cobb Germany
below: Dr Dario Bogdanovic of Agromiks with the certificate for the award-winning flock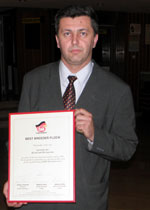 Leading poultry magazine, Zivinarstvo, organised the three-day conference including a technical workshop sponsored by Cobb Germany's distributor, Iradia, which manages the west Balkans region.
Dr Marek Pospiech, technical consultant for Cobb Germany, provided practical advice on such topics as overheating of embryos, female feeding programmes and male management. He spoke particularly about heat stress and potential solutions for these costly challenges in the harsh climate of the Balkan region.
James Truscott, director of Cobb Germany, outlined the continuing expansion of Cobb in a world poultry market which is coping with considerable price fluctuations in raw materials and also in the future competition for energy. The global financial crisis was also impacting the market from a consumption viewpoint, which is highlighting the economic feed efficiency cost advantages and helping to make the Cobb breed, the product of choice.
Breeder manager from Bosnia, Dr Dario Bogdanovic, of Agromiks, presented results from an award-winning flock, which achieved record results of 179 hatching eggs and 155 quality chicks per hen housed at 65 weeks of age.
Cobb Germany's technical services manager for Serbia, Dr Sinisa Kljajic, explained how low-density feed for Cobb broilers is the best option for low-cost meat production, emphasizing also the importance of lighting programmes.
Following the symposium, Jasmina Atlic, owner and manager of Iradia, hosted a cocktail reception for all the delegates.