Mollie Kelly, Co-Founder of KellyBronze Turkeys, Dies
UK - The death has been announced of Mollie Kelly, co-founder of a legendary turkey family business.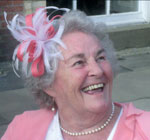 Mollie Kelly, who with her husband Derek founded the UK's best known traditional Christmas turkey business, has died at home in Danbury, Essex, aged 80.

From the early years of the business almost 40 years ago her discerning palate – described by her husband as 'fantastic taste buds' – was a major influence on breeding for flavour, while her own method of roasting a turkey breast down has been adopted by many households cooking the Christmas meal.

Through the decades, the Kelly family has set the standard for the traditional turkey, with the market leading KellyBronze celebrating its 25th anniversary last year and legendary food expert Marguerite Patten describing the Kelly family as a new 'dynasty' in the world of food.

Mrs Kelly studied at Houghall School of Agriculture in County Durham where she met Derek who was also a student there.

Derek Kelly worked initially in the dairy and chicken sectors before moving to the newly developing turkey industry. It was when his employer, River Rest of Oklahoma, ceased trading in the UK in 1971 that Derek and Mollie bought the hatchery at Danbury and co-founded the business, hatching poults as well as producing their own turkeys for Christmas.

In the early years, Mrs Kelly was often at home looking after the farm and their four children while her husband was travelling around Europe advising turkey farming groups. At home, too, she continued her quest to cook the ultimate turkey and was soon in demand giving cooking demonstrations and talks at food exhibitions and other events across the country.

Then in the early 1980s – when the traditional bronze turkey had been almost totally eclipsed by the modern white feathered birds – Derek and Mollie travelled the country to collect the last remaining bronze breeding stock to preserve the genes that provided the foundation of the KellyBronze turkey today. The special flavour and texture of the product has brought a host of awards including success for three years running in gaining the top accolade at the British Turkey Awards.

Over the years, Mrs Kelly has built up a large collection of turkey recipes and last year 25 of her favourites were featured in 'The KellyBronze Turkey Cookbook', which was launched at the 25th anniversary party for the product. Her advice for the roast turkey is to cook it upside down so the fat on the back of the bird trickles down to keep the breast meat moist.

Although in failing health, Mollie has continued to attend industry events including last month the British Poultry Council's ceremony at the House of Commons where her husband received a distinguished service award.

Mollie is survived by her husband, three sons – Paul, now managing director of Kelly Turkeys, John and Adam – and daughter Lynne, and six grandchildren.