CME: Frozen Meat, Poultry Stocks Remain Low
US - "Our year-to-date numbers for slaughter and production were incorrect in yesterday's edition," write Steve Meyer and Len Steiner. "The changes are not large but these numbers are correct. We apologize for any confusion."
USDA's monthly Cold Storage report, released on Monday, indicates that total stocks of frozen meat and poultry remain near their lowest level since December 2003. USDA estimates that there was 1.86 billion pounds of frozen meat and poultry on hand on 1 January. That number is 3.5 per cent larger than one month earlier but 17.1 per cent lower than one year ago. The report will probably be seen as neutral to bullish when futures markets open on Tuesday.

The inventory numbers for all meats and poultry as well as individual cuts are in the table on page 3 (please see link below). The chart below shows monthly inventories of the four major species back to January 2000. Note that the stock of Total Meat and Turkey are read off the right-hand axis while all others are read off the left-hand axis.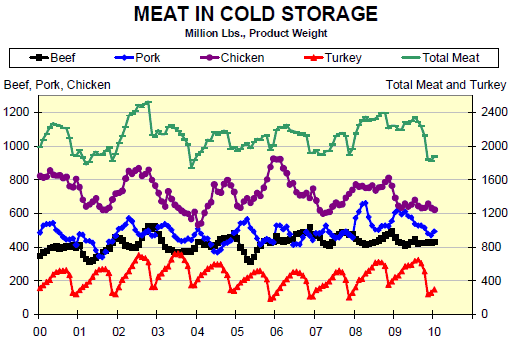 The leaders in the year-on-year reduction of January 31 inventories were turkey (down nearly 169 million pounds or 37.5 per cent) and pork (over 106 million pounds or 18.3 per cent lower). Turkey companies accomplished a record-large drawdown of inventories last fall and, quite understandably, do not appear eager to rebuild them very quickly. The Nov-Jan increase this year is the smallest since 2000-2001 and year-to-date turkey slaughter and production are 5.2 per cent and 4.5 per cent lower, respectively, than one year ago.

The 495.6 million pounds of pork in cold storage is 8 per cent below the average over the past five years for 31 January. Pork inventories usually peak between January and April, depending on seasonal slaughter levels and the date of the Easter holiday which drives the timing of ham usage. But this year could be very different primarily because the normal August bottom for pork inventories never happened in 2009. Pork stocks kept going down through the end of December in spite of seasonally higher slaughter and production. Furthermore, the pork cutout value rallied nearly $18 from 1 October through year-end. That rally was a primary reason that product did not go into storage as it signaled an immediate need for the product.

Ham inventories were 15.4 per cent lower than one year ago on January 31. We don't expect many hams to be added to stocks given that ham prices are over 50 per cent higher than one year ago. The same story applies to virtually every other pork cut. Bellies stocks are 22.5 lower than one year ago and cash bellies are roughly 20 per cent higher than last year. Trimmings stocks are nearly 35 per cent lower than last year and 72 per cent CL (chemical lean) trimmings are over 50 per cent higher. The only exceptions are loins (31 per cent lower inventories but prices up only 8 per cent), ribs and butts (slightly higher inventories).

Stocks of frozen chicken were only 1.3 per cent lower than last month but remained sharply lower (10 per cent) than last year. While slaughter and production are running higher than last year, chicken companies are, at least so far, not putting more product into freezers. The month-on-month numbers that cause a bit of heartburn are those for the dark meat (leg quarter) cuts. Leg quarter inventories have grown 23 per cent since the end of December as US and Russian negotiators try to hammer out an agreement over the use of chlorinated water in chicken processing that will allow US product to continue moving to Russia, our largest poultry export customer. Rumors of progress have disappeared over the past two weeks but we understand that Russian officials are on holiday at present and the talks are to resume in late February. We think it is important to note that leg quarter prices have not fallen significantly since this entire episode began. The market seems to be saying "no worry" but we wonder how long that attitude might last.

Finally, beef inventories were fractionally higher than last month but 6.4 per cent lower than last year. Stocks of both boneless beef (about 85 per cent of the total) and beef cuts were lower than last year on 31 January.

So what does all of this mean? We think it indicates a very current meat and poultry complex. That "currentness" is one of the reasons that weather-related supply disruptions drove pork and hog prices up quickly back in January and did the same for beef and cattle prices the past two weeks. While most of the price action has been attributable to supplies, the sensitivity of these markets indicates that any improvement in demand could push prices of about all meat and poultry product up quickly. DEMAND IS STILL THE KEY ISSUE! And, while some indicators (Q4-2009 growth, for example) are suggesting the recovery is underway, it doesn't appear that consumers are parting with many "elective" dollars. Yet. We think they will and a meal or two away from home or a higher-end steak on the grill may be an early splurge.

A corrected version of our weekly Production and Price Summary can be found on page 2 of the link below.
Further Reading