CME: Fate of US Chicken Exports Remains Unknown
US - The U.S. meat complex in general and US pork industry in particular had some very good news confirmed on Friday as USDA announced that it had reached an agreement to re-open Russia as a pork export market, according to Steve Meyer and Len Steiner.
Russia had delisted (ie. removed from its list of plants approved for exporting to Russia) all US plants over its alleged finding of tetracycline, an antibiotic, in imported US pork. Word of a pending agreement had floated through the market for the past three weeks but everything was put on hold in late February due to many Russian officials being on holiday. News of a pending agreement was in the market on Thursday and was one driver of the rally in Lean Hogs futures.

The re-opening is quite important to the US pork industry. Russia purchased $476 million of US pork in 2008 , ranking fifth among all markets. Sales volume fell to $289 last year due to the economic downturn, a summer ban on US imports predicated by H1N1 and the progressive delisting of plants last fall. Russia was a minor customer as recently as 2003 when it purchased only $7.6 million worth of US product.

Russia has a very tight standard for tetracycline residues with a threshold that is far lower than international standards which are based on a large body of evidence on safety risks. USDA's Ag Marketing Service (AMS) and Food Safety Inspection Service (FSIS) will work with Russian authorities to develop an export verification programme. The programme will guide US packers and processors who want to do business with Russia. National Pork Producers Council President Don Butler said "Our pork meets US and international standards so we did no see the need for the [verification] process. But the Russians wanted the programme and we wanted to get back into the market." We think that is a good way of saying "Regardless of what we might think, the customer is right."

There was no new information on the fate of US chicken exports to Russia. Rumors have been floating that a solution to this situation is imminent as well and leg quarter prices remain relatively firm. USDA's published average for last week was 36.22 cents pre pound. Down 0.38 cents per pound from the week before and only 0.43 cents per pound lower than during the first week of the year. We think this price is a good barometer on what the market thinks will happen with chicken to Russia and this barometer has yet to weaken.

Underlying both of these situations is Russia's stated intent to become self-sufficient in both pork and chicken production by 2011. That desire is underlying all of these trade barriers which protect Russian production and drive up domestic prices, encouraging more output. Another way they are protecting the domestic industries is tighter tariff rate quotas. The US pork quota will go from 100,000 MT last year to just 57,500 MT this year. The poultry quota for 2010 is 600,000 MT, 150,000 MT lower than last year.

USDA's Foreign Agricultural Service forecasts Russian pork production at 2.29 MMT in 2010, 3.9 per cent higher than 2009's 2.205 MMT but 11.2 per cent higher than the output level of 2008. Russia was 75 per cent self-sufficient for pork in 2009 and that number will remain constant in 2010 according to FAS. Russia was 66 per cent self-sufficient in 2008. FAS expects Russia's chicken production to reach 1.975 MMT this year, 10.3 per cent more than last year's 1.79 MMT. That number was nearly 12 per cent higher than in 2008. According to USDA, Russia's self sufficiency in chicken production has risen from 58 per cent in 2008 to 67 per cent last year and a projected 71 per cent this year.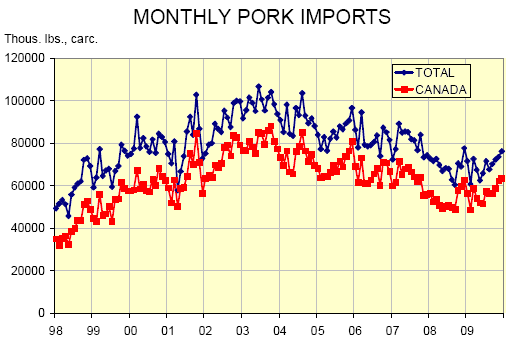 But the easy gains in self-sufficiency may be over. One has to expect that returns will diminish as production is expanded. Further, the major source of capital for any development in Russia is oil income. Russia announced the goals in April 2009 when crude oil was near $50/bbl but when the memory of $140+ oil was much fresher than it is today. Still, $80/bbl. oil will probably generate enough capital for Russian to make some progress on the goal even if that progress is slower than in the recent past. At least we think it is safe to say that the prospects are better at $80 oil than they were at $40 oil.

We addressed the issue of beef imports in Friday's edition and thought it might be interesting to look at pork imports as well. The truth is that if you can predict the level of imports from Canada you can get the total right as well! And further, the level of imports from Canada is clearly a function of the $US/$Can exchange rate. Imports peaked in 2003 just when $Can was its weakest and have trended steadily downward as $Can strengthened. The exception to that is 2009 when imports grew even as $Can went from $1.25US to $1.05US. The driver, of course was an increase in Canadian slaughter driven by the US mandatory country of origin labeling programme. Total imports amounted to 3.5 per cent of US pork production in 2009