CME: US Broiler Industry Still Facing Challenges
US - Following up on our discussion yesterday on beef and pork supplies going forward, the charts below provide an updated view of the situation in the US poultry complex, write Steve Meyer and Len Steiner.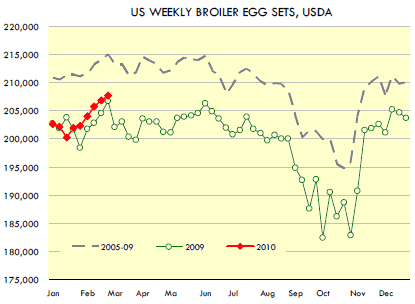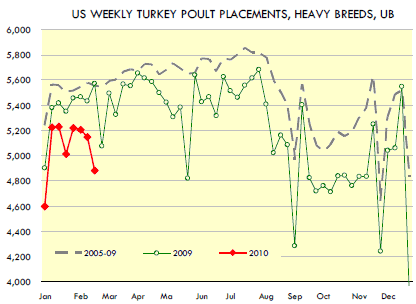 The US broiler industry continues to face a number of challenges, which has limited the appetite for growth. The current rate of broiler egg sets is running only slightly higher than a year ago and remains well below the 2005-09 average. USDA reports that for the week ending 27 February, commercial hatcheries in the 19 states surveyed in their weekly report set 207.8 million eggs in incubators, 0.5 per cent higher than the previous year but 3.4 per cent less than the 2005-09 average for the comparable week. In the past six weeks, egg sets have averaged about 1 per cent over year ago but 3.7 per cent less than the five year average. Turkey poult placements, on the other hand, remain well below year ago and five year average levels. Data from Urner Barry on placements of heavy breed poults show that turkey poult placements in the last six weeks have been on average 6 per cent below year ago levels and 7.6 per cent lower than the five year average.

There is some impetus in the broiler industry to try and get back on a growth path. Lower grain prices this fall and winter and some of the better contract terms negotiated following the grain price spike in 2008 have boosted profits. However, plenty of challenges remain. First, there is the issue with US chicken exports to Russia and China. In response to higher US duties on Chinese steel, China has imposed duties of 43—105 per cent on US chicken parts (Reuters). In 2009, US broiler shipments to mainland China accounted for 11 per cent of overall US broiler exports. Exports to Russia, the largest US broiler export market, remain in limbo, following new Russian regulations that prohibit the use of chlorine as an anti-microbial agent. Russia accounted for 24 per cent of overall US broiler exports in 2009, with leg quarters making up the bulk of the shipments. We have no special insights as to how current negotiations between US and Russian officials will play out but there have been a number of news reports indicating the US officials are offerings a number of alternatives. Clearly this is an important issue since it is difficult to suddenly replace more than a third of your export markets.

Another issue for broiler and turkey producers is the price of feed. Margins have improved in recent months as corn prices have eased lower. However, feed quality problems have been more significant this year, which negatively impacts overall yields and feeding profitability. Corn prices have moved up from the bottom and there is plenty of uncertainty about future direction in US feed, especially if higher meat prices cause beef and pork producers to think about expansion.