International Egg and Poultry Review: Russia
RUSSIA - This is a weekly report by the USDA's Agricultural Marketing Service (AMS), looking at international developments concerning the poultry industry. This week's report covers Russia and the country's target of 85 per cent of self-sufficiency in poultry meat production.
Russia is one of the world's largest importers of meat and poultry; it is also the world's largest importer of animal genetics. In 2008, Russia was the single largest export market for US poultry products and among the leading export markets for US pork and beef. On 1 February 2010, Russian President, Dmitriy Medvedev, signed Russia's Food Security Doctrine and ordered the Government to prepare a proposal aimed at implementing this Doctrine. The proposal focuses on upgrading the quality of Russia's agricultural production and replacing imports with domestic production. The doctrine aims to boost domestic production of basic foodstuffs. The target for self-sufficiency in poultry and pork meat and meat products is 85 per cent by 2012. There is no stated self-sufficiency goal on beef. President Medvedev ordered the Government to prepare a proposal aimed at implementing the Doctrine by 1 April 2010.

The Government of Russia permanently lifted import customs tariffs for hatching eggs and grandparent and parent female chicks of fowls weighing less than 185 grams to facilitate growth in domestic production. Tariffs for these commodities had been five per cent for chicks and 15 per cent for hatching eggs. Hatching eggs and chicks are important for the quickly expanding Russian poultry and egg sector and this measure will help to decrease production costs of broilers since 20.2 per cent of production stems from the cost of day old hatchlings.
Russia's imports of live chicks and hatching eggs represent a $100 million market. Live poults and hatching eggs are a much smaller but growing market as imports totaled nearly $10 million in 2009. Considering distance constraints and cost, the United States is most competitive shipping hatching eggs; however the US has not yet entered the market for turkey eggs. In January 2010, the US exported 210,660 hatching eggs to Russia, valued at $632,000. This 117 per cent higher than January 2009, when hatching egg exports totaled 97,020 dozen valued at $632,000.

In 2010, the Ministry of Agriculture's funds for the implementation of the State Program for Development of Agriculture will be 107.6 billion rubles (RUB; US$3.6 billion). The Ministry of Agriculture will use interest rate subsidies as the major tool in developing priority agricultural projects in 2010; these subsidies cover from 80 per cent to 100 per cent of the interest rate of bank's loans to agricultural producers. The budgets for these subsidies will increase by 30 per cent from last year and will reach RUB79.4 billion ($2.6 billion) and account for 74 per cent of the total budget. The subsidies will be given for financing of previous projects and for new investments in dairy and meat livestock breeding, poultry breeding and for primary processing of meat and milk, among other things. Projects in poultry breeding are estimated at RUB31.0 billion ($1.0 billion).

At a meeting on poultry production and the development of Russia's poultry market, Prime Minister Putin said 60 per cent of demand was met with domestic product in 2007, growing to 75 per cent in 2009. In the next four to five years Russia should be able to fully meet domestic demand for poultry meat.

Source: USDA/FAS GAIN Reports; Congressional Research Service; Department of Commerce, US Census, Foreign Trade Statistics; Government of the Russian Federation; news wires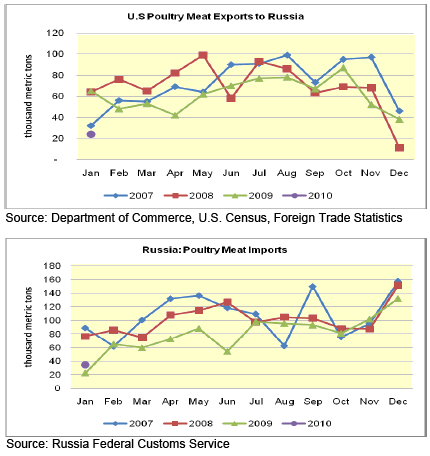 Further Reading