CME: February US Chicken Exports Led the Way
US - USDA has released monthly export data for meats and poultry and it showed that February was a good month for beef and pork and a difficult month for chicken — owing primarily to Russia, according to Steve Meyer and Len Steiner.
The charts below show monthly data for carcass weight equivalent exports to major US markets.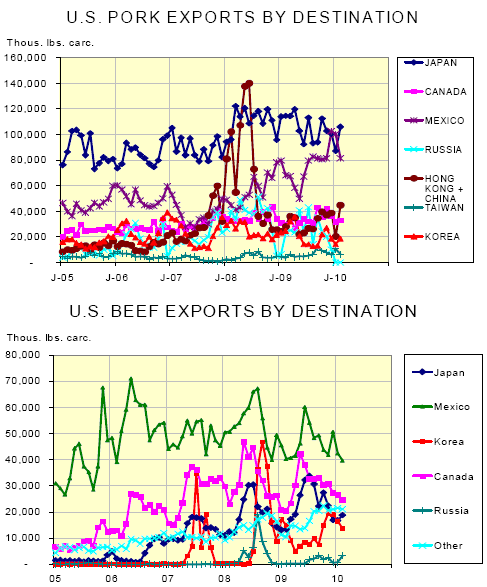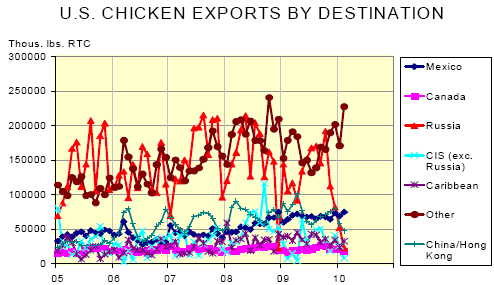 Some highlights of the February data are:
US pork exporters shipped 361.6 million pounds of carcassweight equivalent pork products overseas in February. That total was 15 per cent larger than last month and 6 per cent larger than one year ago. It brings the 2010 total to 676 million pounds, 1.9 per cent more than January-February 2009.


Shipments to Japan were lower than one year ago but Japan remains our largest market — just barely. February shipments to Japan totaled 106 million pounds, 7.5 per cent lower than last year. That brings this year's total to 193 million pounds, 15.5 per cent lower than for the same period in 2009. That total is only 11.5 million pounds more than we have shipped to Mexico so far in 2010 — and business with our southern neighbor is 23 per cent larger so far this year.


February pork shipments to China/Hong Kong recovered sharply from January's disappointing levels. Feb shipments of 44.9 million pounds were nearly 60 per cent higher than last year and brought the year-to-date total to 25 per cent more than one year ago.


Beef exports amounted to 157.4 million pounds, 28.3 per cent larger than last year. That brought the year-to-date total to 311 million pounds, 24 per cent higher than last year. Shipments were higher to all major markets except Japan and South Korea. Hong Kong (+6.6 million pounds), Japan (+5.5 million pounds), and Canada (+4.3 million pounds) was the largest year-on-year increases for February among individual countries but "Other" markets grew by 10.7 million pounds.

Mexico and Canada remain the US's two largest beef markets. "Other" countries rank third when considered as a group, just ahead of Japan.


Chicken exports to "Other" markets led the way in February. USDA's Economic Research Service, who computed the carcass equivalent data, do not publish any details on this category but the Foreign Ag Service data show that Angola (#3), Vietnam (#5), Taiwan (#6), Cuba (#7) and Iraq (#9) are included in the "Other" category. US chicken exports are down 21 per cent for the year to-date, with the reduction almost completely due to a 70 per cent reduction in shipments to Russia.
Please see pages 2 through 4 (link below) for a set of Frequently Asked Questions regarding CME's new Distillers Dried Grains futures contract, which begins trading on 26 April.
Further Reading