Petersime Recruits New Agents in Italy, Kazakhstan
ITALY, KAZAKHSTAN - Petersime has appointed Gentian Malaj to represent the company in Italy, and IG Belco for Kazhakstan.
Gentian Malaj will now be representing Petersime in Italy. Mr Malaj has extensive knowledge of the Italian incubator market and considerable hatchery experience. The company warmly welcomes him to our well-respected distributor network and looks forward to developing a strong position in the Italian market.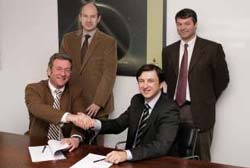 above: left to right: Tom Dewaele (Director, Petersime), Michel De Clercq (Managing Director, Petersime), Gentian Malaj (Petersime agent for Italy) and Philippe Boxho (Area Sales Manager, Petersime)
below: left to right:Tom Dewaele, Geert Horemans (Petersime agent for Kazakhstan) and Michel De Clercq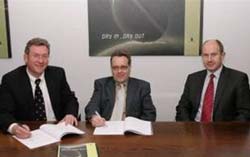 Mr Malaj has ten years of experience in various hatcheries throughout Italy and has been working for seven years as an area sales manager for a leading hatchery automation company.

Petersime has also signed a distributor contract for Kazakhstan with Geert Horemans, Managing Director of Belgian company IG Belco. Mr Horemans moved to Kazakhstan in 1993 and has been working ever since for large German and Dutch companies in the poultry sector. Since November 2009, He has also been the exclusive agent for a world leading breeding company in Kazakhstan.

Mr Horemans owns two companies in Kazakhstan. They are active in feed, pre-mixes and medicines (veterinary products).