New Director of Sales & Tech Service for Cobb Asia
ASIA - Charles Calvert has been promoted to the new role of director of sales and technical service for Cobb in the Asian region.
Mr Calvert has led the technical service team for the past four years in Asia where he has wide experience in broiler and breeder production and in-depth knowledge of customers and the market.

After graduating in poultry science from Auburn University in 1980, he initially spent five years with Cargill as breeder manager and then production manager.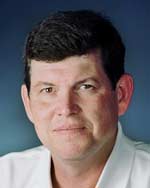 Charles Calvert
In 1985, he moved to Thailand and worked in production with both Charoen Pokphand and Sun Valley until 1991, when he joined Avian Farms with responsibilities for technical service in the Southeastern United States and later including Avian's customer base in Asia.

He moved to Lohmann Animal Health in 2000 as a technical support specialist for the company's poultry biological products for customers in the Southeastern United States.

Then in 2003, he joined Cobb becoming responsible for technical service in the Asian market. Achievements in this role paved the way for promotion to director of technical service in 2006, leading the technical service team in one of the most challenging and fastest growing regions for the company.

Stan Reid, Cobb vice president of sales and marketing, said: "We are pleased that Charles will be taking on the dual responsibility for sales and technical service for Asia. He has shown the dedication and ability to work with customers to improve performance. He has earned their respect and confidence, and demonstrated this to his team."