Reid Has Retired from Moy Park
NORTHERN IRELAND - Eric Reid, Production Director at Moy Park Ltd and one of the poultry industry's most outstanding individuals, has retired after 45 years of service.
Mr Reid stepped down at the end of April 2010 but will continue to support the business as a consultant in an advisory role, for key strategic projects.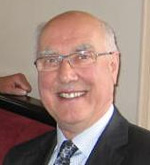 Eric Reid
The son of a poultry farmer, he joined Moy Park Ltd in 1966 as an assistant to the marketing manager. He progressed through various roles reaching the position of Production Director in 1979. For 30 years, he was a core member of the senior team and was a member of the management buy-out team which took over responsibility of Moy Park in 1984. During his time at the company, he implemented initiatives that are now common across the industry, represented the sector at both a UK and European level and won awards for his contribution to the industry.

Mr Reid said: "I am tremendously sad to be leaving Moy Park after so many years. I have thoroughly enjoyed working with all the staff, customers and suppliers, and have made lifelong friends during my time here. The support network and team spirit at Moy Park is outstanding and something all the employees should be very proud of.

"The industry has changed significantly during my time at Moy Park. When I started, we processed 60,000 birds a week and now we process 3.5 million a week! The outlook for the chicken industry is very positive – chicken is a great source of protein and is affordable, so I think it will be central to Europe's food security."

Early on in his career, Mr Reid led a new model of poultry production, based on a partnership between farmers and the processors, ensuring lines of credit were made available. The close relationship between Moy Park, its farmers and private investors provided the basis for sustainable growth and the model was quickly adopted by the rest of the industry. Today, the poultry industry is envied by the rest of the meat industry for its efficiency.

In the mid-1970s, under his guidance and the support of the board, Moy Park moved out of egg production but continued investing in broilers. In the early 1980s, the decision was taken to move into the fresh chicken market rather than just the frozen sector. Another major step in Mr Reid's career was his involvement in the acquisition of the company from 1984 to 1996, after which the company was sold to OSI. In 2008, he took a senior advisory role through the acquisition by Marfrig.

Today, Moy Park is Northern Ireland's largest food processing company and one of Europe's leading poultry companies. It works with 550 poultry farmers across Northern Ireland and England and processes over 3.5 million chickens in the UK each week, including organic, free-range and corn-fed birds.

Mr Reid added: "I have no doubt that Moy Park, under Nigel Dunlop's leadership, will continue to thrive and will be a big part of Europe's poultry production industry. To be honest, part of me would love to do another forty years at Moy Park, but I look forward to spending more time with my wife, two children, five grandchildren and pursuing the other interests in my life."