International Egg and Poultry Review: Philippines
PHILIPPINES - This is a weekly report by the USDA's Agricultural Marketing Service (AMS), looking at international developments concerning the poultry industry. This week's report focuses on the Philippines' higher poultry production in the first qurter of 2010.
The Philippines weathered the global recession better than its regional peers. Philippine GDP grew almost 1 per cent in 2009; economic growth in the Philippines has averaged 4.5 per cent per year since 2001. Agriculture accounts for almost 15 per cent of the GDP and about 34 per cent of the labor force is employed in agriculture.

Agricultural production fell 2.84 per cent in the first quarter of 2010, due to huge production losses in palay (unhusked rice) at 11.41 per cent and corn at 16.76 per cent. Crops accounted for 47.75 per cent of total agricultural production. A dry spell caused by El Nino reduced the area of palay harvested and lowered the yield. Yellow corn production was adversely affected by hot weather in growing areas. The livestock sector grew by 0.51 per cent and accounted for 12.28 per cent of agricultural output; poultry production increased 2.02 per cent, representing 15.13 per cent of agricultural output; the fishery sector fell 0.63 per cent and accounted for the remaining 24.84 per cent of agricultural production.

The poultry subsector grossed P41.1 billion at current prices, a 14.85 per cent increase from the same period a year earlier. Chicken production value grew 19.06 per cent in the first quarter of 2010 due to a combination of a higher volume of production and higher prices. Gross receipts for chicken eggs rose 3.11 per cent due to higher production levels.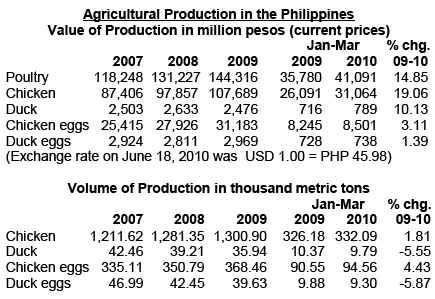 The Chicken Industry Performance Report for January-December 2009 reported the country's total chicken population as of 1 January 2010 was 158.93 million birds, only 0.17 per cent higher than last year's headcount of 158.66 million birds. Broiler inventory dropped by 8.36 per cent, layer population grew 13.72 per cent and native chicken inventory increased 2.05 per cent when compared to 1 January 2009. Lower growth in chicken output last year was due to the effects of several typhoons that hit the country during the 4th quarter.

Almost 49 per cent of the total chicken population was native or village chickens raised in backyard farms. The top producing regions were Western Visayas, Central Visayas, Central Luzon, Ilocos Region, and Northern Mindanoa, together accounting for almost 50 per cent of the total inventory of native chickens.

Broilers and layers raised in commercial farms accounted for 33 per cent and 18 per cent of the total chicken population, respectively. The top broiler producing regions are Central Luzon (32.79 per cent), CALABARZON (22.67 per cent) and Northern Mindanao, (10.69). The top three regions for layer chickens were CALABARZON (38.81 per cent), Central Luzon (20.01 per cent) and Northern Mindanao (10.78 per cent).

In 2009 the farm gate price of broilers in commercial farms was P78.73/kg, up 8 per cent from the previous year and the farm gate price of chicken eggs in commercial farms was P3.78 per egg. The wholesale price in Metro Manila for broilers was P4.36 per piece, up 8.8 per cent; the retail price in Metro Manila was P4.36, up 8.8 per cent.

Broiler and layer final stocks were products of imported Day-Old Chicks (DOC) and hatching egg breeders. Total imports of DOC broiler breeders grew 41.48 per cent and layer imports rose 24.75 per cent.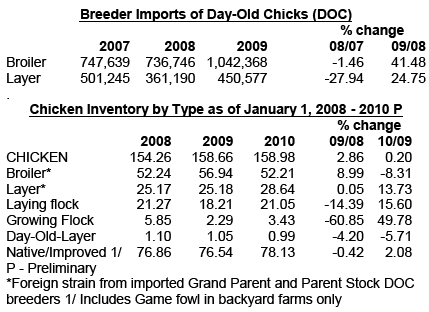 The total volume of chicken meat imports in 2009 was 61.44 thousand metric tons valued at US$ 35.14 million FOB, up 40.42 per cent in volume and 53.82 per cent in value.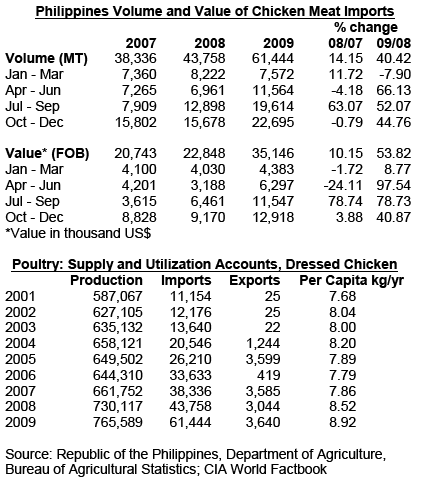 Further Reading