DSM Shows Commitment to Animal Nutrition, Health
SWITZERLAND - DSM's strong commitment to Animal and Human Nutrition & Health as well as Personal Care was spelled out at its 2010 Nutrition Forum, whose theme was '2020: Nourish, Protect and Improve', thereby focusing strongly on sustainability questions.
Held in Interlaken, Switzerland, from on 6 to 8 June, this major event in the industry's calendar gave leaders around the world the opportunity to share their views on key developments determining our future.

During the opening reception A. Ruy Freire, President of Animal Nutrition and Health welcomed the participants and guest speakers highlighting the strong international character of the conference, with 160 participants with some 40 countries represented. He said: "It is my pleasure and privilege to welcome you all to this event. This event provides an important forum for industry leaders and DSM to network and to discuss global changes and face challenges to come. Many of you have travelled a long way to be here: thank you for joining us for our journey to the future."

In his opening remarks, Leendert Staal, President and CEO of DSM Nutritional Products said: "The purpose of DSM is to create brighter lives for people today and for generations to come. In a world changing at a breath-taking pace, it is of fundamental importance to understand the underlying societal trends as well as the specific challenges with supplying a growing population, rich and poor alike. All together, we need to take supply and agriculture to the next level and start looking at our footprint on the planet in a more sustainable way. This can only be done based on a deep-reaching partnership with our customers."

Top-level speakers and dialogue with and between DSM's customers in the audience provided food for thought in the main areas where future will be created. Ranging from new insights to thought-provoking statements, the event was aimed at contributing to a broad-based future perspective for participants in long-term decision making.
A new socio-economic landscape

Kjell Nördstrom
Kjell Nördstrom, Associate Professor at the Stockholm School of Economics, spoke about the difficulties caused by the recent economic downturn but denied that there was a deeper problem at the heart of the capitalist system.

He explained: "It is a paradox. We have won. This is the age of capitalist triumph. We have conquered the world from Beijing to Baltimore. At the same time, we are in the midst of the greatest recession since 1929. However, capitalism as a system does not have a problem or crisis. Certain industries and companies have a problem. The crises are of such a magnitude that we can expect a new socio-economic landscape to be born. Limited resources and creation stand centre-stage for the new business paradigm."

He went on to challenge some of the long-held ideas about capitalism, urging those present to question in which direction the modern business should go and how it should adapt to avoid making the same mistakes that have taken the world economy into such difficult terrain.
The need for financial reform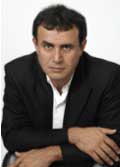 Professor Nouriel Roubini
Following on from these words of warning was a presentation from Nouriel Roubini, Professor of Economics at NYU's Stern School of Business. Conceding that the second half of 2009 brought signs of stabilisation in growth rates and industrial production for many economies and that early 2010 has brought continuing strong global trade and improvement in output, Professor Roubini observed: "The path to a self-sustaining economy is not yet clearly shaped, at least not in advanced economies."

He discussed the need for a reform of the global financial system and for a balanced path of continued growth, and also examined the implications of the Greek financial crisis.

"Countries like the US and UK have large volumes of debt that will hamper their economies for years to come," stated Professor Roubini, who also addressed the threat of the break-up of European Monetary Union.
Positive effects of globalisation

Alexandre Lahóz Mendonça Barros
Thoughts turned away from the troubled economy and focused instead on the positive impact that globalisation can have on food supply for emerging markets. Alexandre Lahóz Mendonça Barros, Managing Director of MB Agro, explained how, after decades of supply-driven agriculture, the world is now witnessing demand-driven agriculture.

World population growth, strong income growth in third-world countries, increased use of biofuels and the globalisation of financial markets have created, in Mr. Barros' view, "ppportunities for countries with the structural capacity to increase food production".

Citing the example of Latin America, he predicted that the continent's agribusiness would play an increasingly important role in global food supply.
Opportunities for change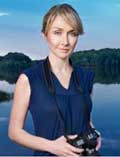 above: Alexandra Cousteau
below: Peter Schwarz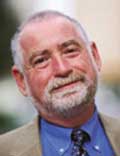 In the final session of the second day of the conference, Alexandra Cousteau, co-founder of Global Network of San Francisco and granddaughter of Jacques-Yves Cousteau, laid bare the problems posed by the higher demand and greater competition for resources. She made it clear, however, that the problems this might cause are also opportunities for change. She pointed out that dramatic changes in our environment, exponential increases in demand and competition for resources have converged to pose a cataclysmic challenge to her generation and an historic opportunity for innovation.

Ms Cousteau said: "The effects of this convergence will be experienced most dramatically through water – our planet's storyteller and the single thread that connects populations, cultures, and futures through a single hydrosphere."

She demonstrated the roles played by water in various cultures and how the management of its supply can cause conflict and reduce the quality of life in the developing and developed world. Through focusing on the individuals and innovations saving lives, she argued, we can build a secure and sustainable future.

Guests enjoyed dinner that evening with a boat trip on the Lake of Thune, and on the final day of the conference, Peter Schwarz, a well-known futurist, author and Alexandra Cousteau's fellow co-founder of Global Network, presented his ideas on the inevitable surprises that will be faced in the future, based on current global trends. As particular causes for concern, Mr Schwarz identified climate change and the availability of water, as well as "possible game-changers, such as a second green revolution driven by advances in biotechnology".

In addition to these more predictable changes, he also examined, "wild card events," such as second green revolution that could impact upon supply, demand or public opinion. The implications that occurrences of this nature could have on the future of the food industry were discussed, but the general message was that whatever surprises arise in the coming years, they can be seen as opportunities for growth rather than threats of chaos.

The Interlaken conference concluded, appropriately, with a visit to the Jungfraujoch, site of Europe's highest railway station and often called the 'Top of Europe' – a fitting vantage-point from which to contemplate the challenges and opportunities of the years to come.