Aviagen Cuts Chick Delivery Time
RUSSIA - Aviagen has cut chick delivery time in Russia as a new hatchery has begun supplying customers.
Aviagen's new Russian hatchery has made its first delivery of parent stock (PS) chicks and demonstrated reduced transport times for its Russian customers in the process.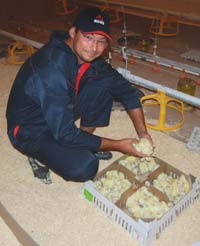 Receiving newly arrived chicks: Pavel Shkarlat (above) and Eduard Taktarov (below)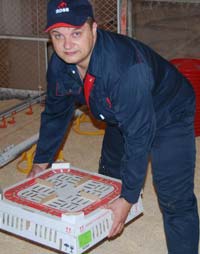 The Yasnogorsk hatchery opened in July 2010, following a US$10 million investment by Aviagen, and is based in the Tula region of Russia. It recently supplied the first chicks to a customer, Zorinsky Breeding Farm, in the Saratov region near the Volga River.

The distance covered was around 800 kilometres and the delivery time, compared to previous supply by plane from EU-based hatcheries, was reduced tremendously. Aviagen technical specialists travelled with the chicks to make sure the first placement went as smoothly as possible. The customer was delighted with the service and chick quality received.

Pavel Shkarlat, Technical Service Manager, said: "Yasnogorsk is a state-of-the art facility and one that we and our customers can be proud of. It ensures they have a local supply of chicks, which means the chicks spend less time travelling, consistently enhancing quality."

Eduard Taktarov, Sales Manager for the region, added: "We are committed to being closer to our customers not only in terms of technical support but also in terms of the strategic location of our facilities. Our investment in the Yasnogorsk hatchery has resulted in an even better service for our customers."