AVICOL Modernises, Expands San Felipe Hatchery
COLOMBIA - In a continuing effort to serve their customers better, AVICOL (Avícola Colombiana SA), located at Ibagué has taken the decision to modernise the San Felipe hatchery.
With over 50 years of experience in the production of broiler breeders and layer parent stock, AVICOL has decided the time is right to upgrade the San Felipe hatchery to the latest Petersime Embryo-Response Incubation technology.

Within this project, all current incubators in the San Felipe hatchery will be replaced by Petersime BioStreamer setters and hatchers and a new wing will be added to the hatchery in order to meet the increasing demand for AVICOL's products in Colombia.

Wilson Meza Rincón, General Manager, said: "We are constantly looking for ways to improve our services and products for our customers. This project is simply the next step in the improvement process. With Petersime, we have found a solid and trustworthy supplier and partner with a product in line with the quality standards we target at AVICOL."

Pieter Hemeryck, Area Sales Manager at Petersime, commented: "Modern breeds combined with modern single-stage incubation technologies will definitely lead to more and better quality chicks. We are looking forward to cooperating with AVICOL to ensure this project is a success."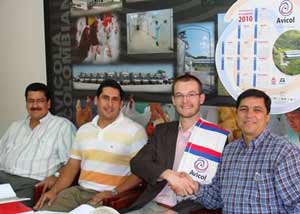 left to right: Devinson Punetes Nova (Finance Manager, AVICOL), Miguel Eduardo Ayala Oyola (Manager of San Felipe hatchery), Pieter Hemeryck and Wilson Meza Rincón