CME: Corn, Soy Price Rises Hit Poultry Production
US - A frequent question these days involves the comparative impacts of recent feed ingredient price increases on the various meat and poultry species, write Steve Meyer and Len Steiner.
Higher corn and soybean meal prices do not hit the species equally – some are more dependent on corn or closely related high-energy ingredients and some are more dependent on meal or closely related high-protein ingredients. The specific target of most questions is the chicken segment for several reasons.

First, chicken represents the largest meat/poultry protein business in terms of ready-to-cook, i.e. carcass, weight.

Second, chickens and turkeys require higher protein and higher quality protein diets and are therefore more dependent on soybean meal prices. The first chart shows clearly that soybean meal prices have fallen relative to corn prices in recent weeks, providing some degree of feed cost advantage to the chicken industry. That does not mean chicken companies are immune to higher corn prices. It simply means that the lack of a run-up of similar magnitude in soybean meal prices provides them a bit of insulation.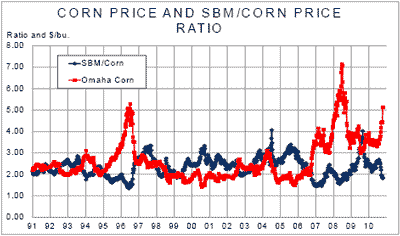 Third, the chicken sector moved back into a growth mode last spring after the reductions of 2009, leaving it particularly vulnerable to higher production costs. FI broiler production is 3.7 per cent higher, year-to-date (YTD), than one year ago. Weekly production has been over six per cent larger than one year ago in three of the past four weeks. Average bird weights have increased from 5.5 pounds in mid- September to an estimated 5.85 pounds last week.

And there is more to come. As can be seen in the two charts below, the industry has ramped up egg sets and chick placements even more in recent weeks. While egg sets are up a healthy 2.5 per cent YTD, sets the past six weeks have all been 4% or more ahead of last year's pace. Two of those weeks were six and eight per cent higher than one year ago. As is normally the case, chick placements have not increased by as much as egg sets but two of the past three weeks have seen placements 5.6 per cent higher than in 2009. Egg sets lead slaughter by eight to 10 weeks, Chick placements lead slaughter by five to seven weeks. The bottom line is that there is a lot more broiler meat headed to the market from mid-November forward.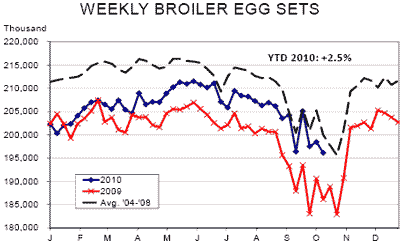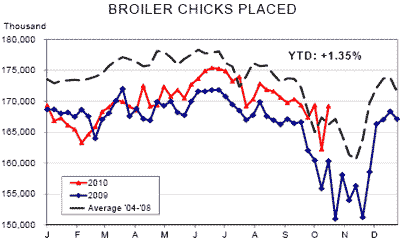 How damaging will these larger supplies be for chicken prices? Recent trends for composite broiler price and three major components raise concern over the price of boneless/skinless chicken breasts, a key value component, which has fallen by 26 per cent to $1.315 per pound since peaking at $1.789. the week of 4 September. That $1.789 er pound was the highest weekly average price of boneless/skinless breasts since August 2004. The composite price and wing prices are following a reasonably normal seasonal pattern. Leg quarters are providing some value support and that contribution could actually grow as shipments to Russia continue to grow. At least they are expected to grow – barring any more fun and games by the Russian government.