International Egg and Poultry Review: Chile
CHILE - This is a weekly report by the USDA's Agricultural Marketing Service (AMS), looking at international developments concerning the poultry industry. This week's review looks at Chile's egg industry industry.
The egg industry in Chile is concentrated, with 11 companies producing 60 per cent of commercial egg production. Out of a total of 147 companies that produce eggs, 136 have more than 1,000 laying hens. As of December 2009, there were an estimated 45 million birds in Chile, 2.2 per cent higher than a year ago. The breakdown is 72 per cent broiler stocks (for consumption and for breeding parental lines) and 28 per cent hens producing eggs for consumption and hatching eggs. Egg production has grown at an annual average of 2.6 per cent over the past four years.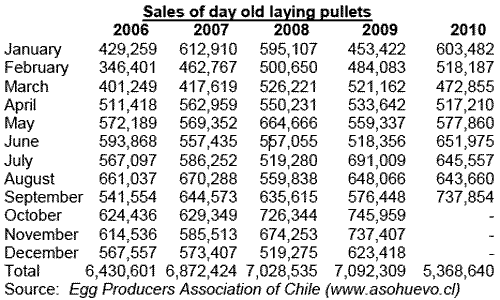 It is estimated that the earthquake in February 2010 affected about 1.2 million laying hens (10 per cent of the total flock) but with very low mortality. In some cases, poultry cages collapsed, which meant the birds stopped eating, had to be relocated to other buildings, and mixed in with birds of different ages. This led to an estimated 10 per cent drop in production. In other cases, there was damage to feed mills, which resulted in some birds not being fed for a few days, causing a further reduction in egg production. The industry has since recovered from the damage and even increased the stock of birds.

Egg production for 2010 is projected at 2,900 million eggs, down two per cent from 2009 and four per cent lower than expected before the earthquake. Demand for eggs continues to be influenced by population growth, higher incomes, and the high price of substitute products such as meat, which is offset in part by the relatively high prices for eggs. Eggs have a low income elasticity, especially in lower income households.

The average sales of day-old-chicks grew slightly in 2009 (0.9 per cent) compared to 2008, and growth in the first half of 2010 was near normal, independent of the earthquake effects. It takes about a year to adapt to new demands for new laying stock. The earthquake affected the number of chicks hatched because a significant portion of the eggs in incubation broke.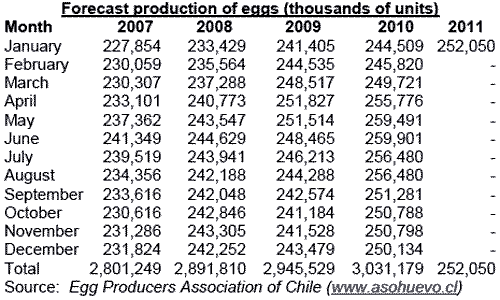 In Chile it is very expensive to export eggs due to the high expense of refrigerated transport. Most eggs are produced for domestic consumption and exports tend to be hatching eggs or egg products.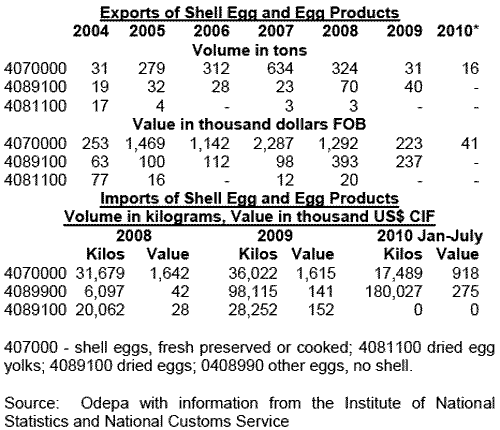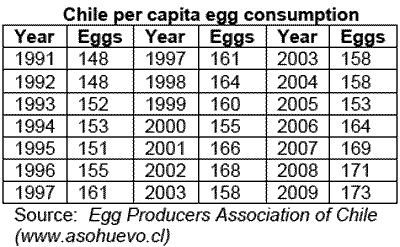 Shell egg imports through July 2010 grew 4.8 per cent in volume and the average price rose 2.3 per cent (from $51.5/kg to $52.5/kg.) The largest increase was in liquid/frozen whole eggs due to the shortfall in domestic product after the earthquake. Those imports were 4.6 times higher than the same period in 2009 and the price fell 12 per cent, from $1.7/kg to $1.5/kg, totaling $275,000.
Source: www.odepa.gob.cl
Further Reading