Smart Gains for Pato Branco in Brazil
BRAZIL - Avícola Pato Branco, currently celebrating 40 years in the Brazilian poultry sector, has become the latest poultry business to commission world-class Pas Reform's SmartPro single-stage technologies for its new hatchery development at Pato Branco in Paraná state.
SmartSetProTM setters and SmartHatchProTM hatchers will deliver an annual capacity of 50 million hatching eggs in the new hatchery's first phase of development, with a second phase scheduled to increase capacity up to 100 million hatching eggs per year.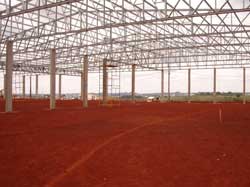 Avícola Pato Branco's new hatchery will produce 50 million day-old chicks annually when its first phase goes into operation early 2011
The new hatchery will also employ Pas Reform's hatchery automation and climate control systems, including bacterial and fungal filtration, pressure control in all hatchery production rooms and planning for optimised hygiene in the flow of eggs and chicks. Microban® enhanced flooring and hatcher baskets further aid the prevention of contamination, by a continuous action that stops the multiplication of bacteria.

According to Production Director, Odilete Rotava, Pas Reform do Brasil was the only company in the country that could deliver the complete, turnkey, single-stage solution Avícola Pato Branco hatchery was looking for.

She said: "We chose Pas Reform for its advanced technologies and its worldwide reputation. Also, as a Brazilian company delivering Brazilian-made products, FINAME finance was viable for incubators and HVAC ventilation for the expansion, which made Pas Reform do Brasil the best option for us.

"Aside from the company's reputation for innovation, we also found a supplier that delivers throughout the process – from sales and commissioning, hatchery planning, project management and installation to after sales, technical back up and training services," she said.

Thomas Calil, managing director of Pas Reform do Brasil, has led the introduction of SmartPro into Brazil, where the adoption of single-stage hatchery technologies is seen increasingly as an important factor in the evolution of the poultry business, in line with similar transitions that are occuring in other Latin American countries.

Pas Reform do Brasil has invested substantially in its warehousing, assembly, stock-keeping, spare parts and delivery capabilities. Technical and commercial staff are locally based, to deliver on-site training and the full range of project management and back up services. Virtually everything is sourced by and from local suppliers, says Mr Calil, while meeting the stringent quality standards and expectations of Pas Reform in the Netherlands.