Aviagen SweChick on the Road in Scandinavia
SCANDINAVIA - Aviagen SweChick, Aviagen's Swedish business unit, recently held a series of broiler roadshows for customers in Denmark, Norway and Sweden. Overall, the events were attended by over 130 representatives from all parts of the Scandinavian broiler industry.
This was the first series of events for Aviagen SweChick and a good chance to meet customers and demonstrate how being part of the Aviagen Group will benefit existing and potential customers.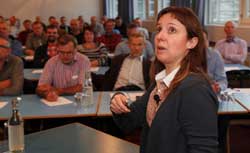 Africa Fernandez giving her talk on biosecurity
Organised by Aviagen SweChick's customer focus team and supported by Aviagen specialists, the events updated audiences on the latest developments in the company's cutting-edge Research and Development programme and gave practical advice on maximising Ross broiler performance.

Aviagen's UK Breeding Programme Director, Jim McAdam, gave an overview of Aviagen's breeding programme. Delegates were particularly interested in hearing his vision of the breeding objectives for the next five years and his projections of achievements possible within this period of time.

Africa Fernandez, one of Aviagen's company veterinarians, talked about health issues including infectious bronchitis and coccidiosis. Ian Dowsland, one of the Technical Services Mangers who works very closely with customers in Scandinavia, gave a presentation on creating the optimal broiler environment.

Delegates were interested to see the thermal image photographs that visually demonstrate opportunities where changes to broiler shed set-up and ventilation can strongly affect both quality of air exchange within a broiler shed and opportunities to optimise economic benefits, such as a reduction in wasted heating costs. The presentation also offered practical management tips on how to achieve this.

Finally, Leonardo Linares, Nutrition Service Manager, looked at feed form and the importance of proper nutrition on achieving true performance potential.

Thomas Carlson, Managing Director, Aviagen SweChick AB, commented: "It is extremely important for us to show the market that welfare concerns, which are of great significance in Scandinavia, are one of the cornerstones of Aviagen's breeding programme. As a company, Aviagen are always committed to listening to the views of all our customers and developing products to meet their needs."

Anna Johansson, Lantmännen Kronfågel, said: "It is very valuable for both companies and producers to get an insight into the practical breeding work; it makes it easier to understand how and why the chickens react as they do in different situations. It is motivating to see which genetic qualities are in focus at the moment and what we can expect to see in our farms in a couple of years.

"The veterinary, nutrition and management presentations had a good mixture of scientific and practical information, which suited the audience. For the producers I think it was very valuable to get the practical, more hands-on advice of how to manage their farms and their animals."