CME: Year-End Stocks for Corn and Soybean
US - USDA's December World Agricultural Supply and Demand Estimates (WASDE), released on Friday, contained slightly higher projected year-end stocks for corn and lower projected year-end soybean stocks with neither number differing dramatically from the average of analysts forecasts that were published earlier in the week, write Steve Meyer and Len Steiner.
USDA's December supply and utilization data for both crops appears on page 3 (please click on the link below).

Corn analysts had expected, on average, a slight reduction in projected year-end corn stocks but the report raised that estimate by 5 million bushels. That change was driven by a 5 billion bushel increase in projected corn imports from Canada. No other number in USDA's S & U table changed and USDA left its forecast national weighted average farm price at $4.80 to $5.60 per bushel. Though slightly higher, the projected year-end stocks-to-use ratio for corn remains at 6.2 per cent, the second lowest ever. The corn price is expected to increase from last year's $3.55/bushel in response to the decline in projected year-end stocks-to-use ratio from 13.1 per cent in 2010. These changes reflect the expected negative relationship between quantity and price. However, note the difference between this year's forecast price and that of 1995-96 when the stocks-touse ratio was at 5 per cent, its lowest level ever. The large difference between the forecast 2010-11 price and the 1995-96 price even with a higher stocks-to-use ratio indicates that corn demand is dramatically higher now than it was in pre-ethanol days.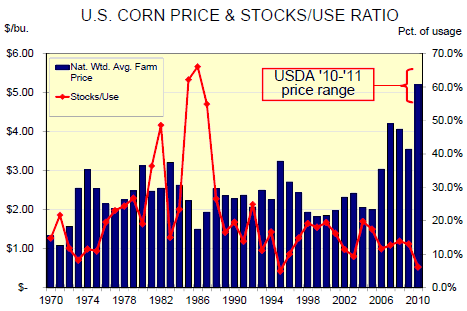 Global coarse grain (corn, sorghum (milo), oats, barley, rye and millet) supply was increased by 3.4 million tons in 2011 with corn, barley and oats production accounting for 2.2 million, 0.6 million tons and 0.4 million tons, respectively, of that increase. India was the primary driver of the higher corn production number, rising 1.0 million tons from the October estimate.

USDA did reduce projected soybean carry-out stocks by 20 million bushels to 165 million bushels. The reduction was due to a 20 million bushel increase in projected soybean exports, a very reasonable change we think given the rapid pace of exports since 1 September. The reduction in projected carryout stocks pushed the year-end stock-to-use ratio for soybeans down to 4.9 per cent, the 5th lowest ever. Here again, a modestly higher stocksto- use ratio is accompanied by a higher price reflecting the strength of soybean demand.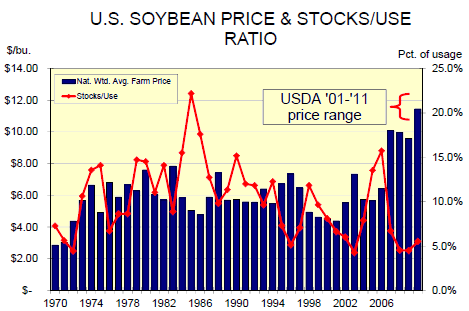 Friday's other piece of major news for grains and feed costs is that the compromise tax bill includes a 1-year extension of the ethanol blenders' tax credit (BTC), the ethanol import tariff as well as the revival of the $1/gallon biodiesel tax credit. The first two were set to expire on 31 December. The biodiesel credit expired at the end of 2009 and we understand that its reinstatement is retroactive, meaning that biodiesel producers can collect the credit on production back to the beginning of 2010. The extension for the BTC and tariff leave them at $0.45 and $0.54/gallon, respectively. The tax bill is expected to pass the Senate but faces an uncertain future in the House where liberal Democrats have vowed to fight it in spite of the support of President Obama.

To us, the most important facet of this deal is its timing. The 2012 run for the White House will begin with the Iowa Caucuses on 6 February 2012. This one-year extension will put the next round of ethanol debates squarely in the middle of the campaigns for those causes. Will anyone be bold enough to oppose the ethanol incentives during their presidential campaign launch?
Further Reading