Smart Collaboration for UKPF
KAZAKHSTAN - New collaborations continue to develop for Pas Reform in Central Asia and Eastern Europe, most recently with Ust-Kamenogorskaya Ptitse Fabrika (UKPF) in Kazakhstan.
As a fully integrated poultry business, UKPF is the only chilled chicken meat producer in the country. The company has commissioned Pas Reform to install Smart incubators, hatchery automation and climate control systems, as part of an expansion programme that will increase UKPF's production to 16,000 tons at per annum. Pas Reform Academy will further support the poultry producer with a programme of hatchery management training services.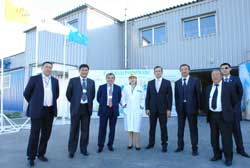 Expanding production and improving standards, is, says Timur Kozhakhmetov, General Director of UKPF, fundamental to greater efficiency and productivity for the future.

He said: "Our partnership with Pas Reform is very important for us. As we continue to expand operations and improve production standards, our investment in Smart incubation technologies and technical back up is entirely focused on improving production, performance and standards.

"Domestic demand for our products grows year on year. Increased capacity will reduce Kazakhstan's dependence on imports."

UKPF is a vertically integrated facility that produces, markets and distributes a wide range of chicken products, including frozen and cooled chicken, chicken sausages and smoked chicken. As a vertically integrated company, UKPF incorporates breeding facilities, a hatchery, broiler houses, feed milling and broiler processing facilities. Established in 1976 as a state poultry farm, UKPF was privatised in 1997 and has since developed into one of the country's leading poultry companies, With more than a 35 per cent share of the Kazakhstan poultry market, UKPF serves the remote NorthEast, as well as Almaty and Astana, with marginal export sales to Kyrgyzstan.

"UKPF's forward-looking strategy is built around a strong ethic for safe, affordable, high quality products for the consumer," added Pas Reform's Sales Director, Michaël Kampschöer. "Pas Reform looks forward to a continuing collaboration with UKPF, as the company realises its potential to supply growing home market demand."