Welcome for Lab Trainees on Winter Course
UK - Aviagen recently welcomed a new group of customers to its laboratory facility in Scotland to participate in best practice training.
The training is aimed at underlining the importance of effective laboratory techniques and improving the care and performance of Aviagen flocks.

Two courses are held each year as part of Aviagen's initiative to provide support across all areas of flock management. Training is customised to each trainee through questionnaires sent out in advance of the sessions. They are then given instruction on areas of interest, with quality assurance and control also emphasised.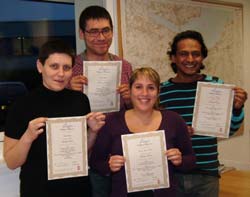 Dr Kara Pierce, Laboratory Manager, said: "What is great about these sessions is that they really are a global experience. For our winter session, we had guests from the Middle East, Russia and Europe all working and learning together.

"It is our mission to provide as much support as possible to our customers but also to help grow the poultry industry worldwide. All our trainees will take back new techniques and advice to their own labs and pass on tips to their colleagues."

The Aviagen laboratory training programme has now completed training for over 300 people from over 30 countries since the initiative began in 1997.

The latest visitors were Maxim Voznyak and Natalia Voronkova from Russia, Sandra Sanjuan Perez from Spain and Dr Zenan Al Yami from Saudi Arabia. They all spent time in the different areas of the laboratory, i.e. virology, serology, bacteriology and the molecular departments and gained experience of various testing procedures.

Rik van den Bos, Regional Veterinarian for Turkey, Middle East and Africa, said: "The benefit of our lab training is to assist our colleagues working in customers' laboratories to conduct reliable and consistent sample analysis using validated test methods. The training sessions provide useful information and build confidence in the accuracy of health declarations relating to our products."

Aviagen's Scottish laboratory handles between 3,000 and 5,000 samples per day and is seen as one of the top poultry labs in the world. Demand for the course is high as places are limited by laboratory size; and there is no doubt that these training sessions are a special experience.