CME: Results of USDA <i>Cold Storage</i> Report
US - USDA released on Friday the results of its monthly surveys covering cattle feedlot inventories and meat supplies in cold storage, report Steve Meyer and Len Steiner.
Below are some of the highlights from these reports with more detail included in the tables on page 2. Our regular weekly price and production summary is included in page 3 (please see link below).

The Cold Storage report showed modest year over year increases in both beef and pork inventories. Beef stocks generally increase in December but the increase in cold storage stocks has been quite surprising. We suspect a big part of this is due to foodservice operators putting away fat beef trimmings for use in Q1.

Also, with high beef prices outfront, end users are increasing their freezer inventories (where they can) as a hedge for the higher prices. It would be great to get more detail on what kind of beef is being put away but this is all USDA provides. Pork cold storage stocks were 475.6 million pounds, 1 per cent higher than a year ago and 0.9 per cent higher than a year ago.

Bone in picnics continue to be very tight, down 25 per cent from a year ago while hams have bounced back and are up 33.9 per cent from last year. Total belly stocks were reported at 50.8 million pounds, 10.4 per cent lower than a year ago but 9.8 per cent higher than the five year average. Chicken cold storage stocks are higher at this time.

Dark meat inventories are up sharply compared to a year ago however this is partly due to a big increase in exports. Last year, chicken producers were faced with a closed Russian market and they reduced the supplies of leg quarters and other dark meats they put away in refrigerated warehouses near port facilities.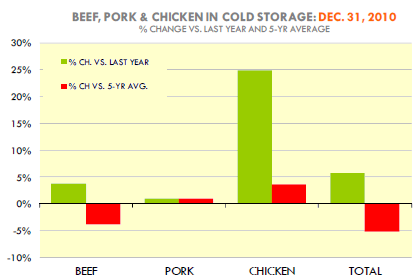 Further Reading