International Egg and Poultry Review: Global
GLOBAL - This is a weekly report by the USDA's Agricultural Marketing Service (AMS), looking at international developments concerning the poultry industry. This week's review looks at US leg quarter exports.
Despite a series of trade issues and an export lull throughout most of 2010 between the US, Russia and China, the top export destination for US leg quarters in 2010 was Russia at 316,000 metric tons (MT) (TMT), 53 per cent lower than 2009 levels. US exports to Russia surged in the last four months of 2010 (279,000MT) to surpass all other markets. Following behind were Mexico (151,000MT), Angola (138,000MT), Cuba (119,000MT) and Lithuania (92,000MT).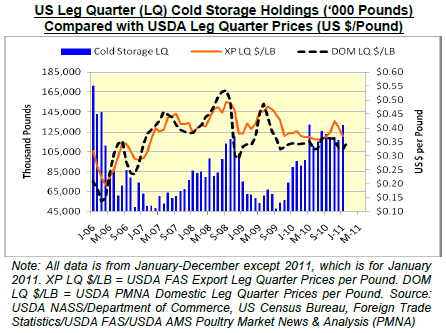 In lieu of Russia and China, significant gains in tonnage were made from 2009 to 2010 into the following areas: Angola (65,000MT), Mexico (40,000MT), Georgia (30,000MT), Congo (38,000MT), Lithuania (23,000MT), Taiwan (21,000MT), Viet Nam (15,000MT), Chile (13,000MT), Haiti (11,000MT) and Pakistan (10,000MT) among others.

For January 2011, top export markets for US leg quarters were Mexico, Angola, Iraq, Guatemala and Lithuania. US poultry producers scramble to develop other markets amid Russian quota reductions, potential trade issues with the Customs Union (Russia, Belarus and Kazakhstan), high Chinese tariffs, the anti-dumping case with Mexico, effects of Japan's recent natural disaster, high grain prices, weakness of the US dollar and other issues.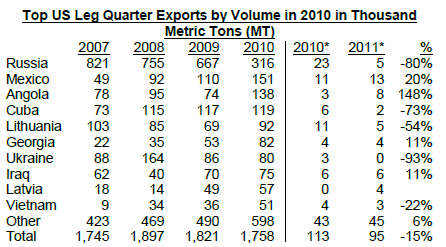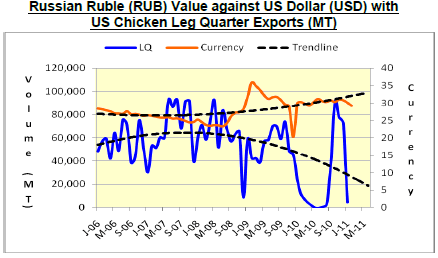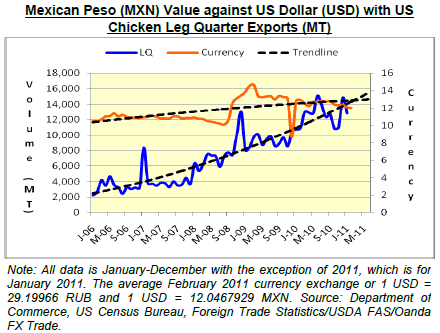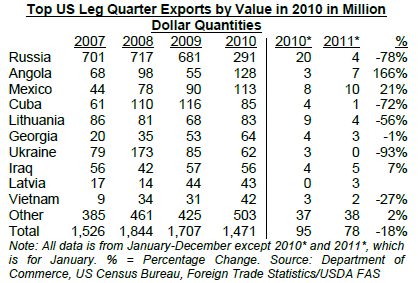 Percentage of US Leg Quarter Exports by Volume to Top Destinations in 2010
Note: All data is January-December except for 2011*, which only includes exports from January.
Further Reading