International Egg and Poultry Review: South Africa
SOUTH AFRICA - This is a weekly report by the USDA's Agricultural Marketing Service (AMS), looking at international developments concerning the poultry industry. This week's review looks at the South African broiler industry.
Broiler production in South Africa is expected to reach 957 million broilers or 1.29 million tons of meat in 2010, up three percent from a year ago. Since 2000, broiler production in South Africa grew by an average of 4 per cent annually, slowing over the last two years.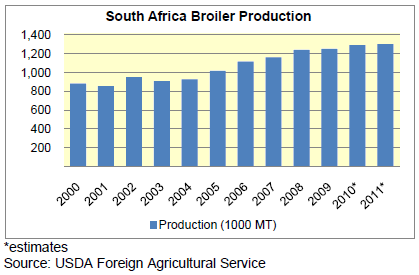 Two large producers produce 50 per cent of total broiler production in South Africa. A third company produces 8 per cent and four medium-sized producers supply 20 per cent of the market. The balance consists of about 44 smaller producers, producing less than 200,000 broilers per week. Some consolidation has taken place in recent years, with larger companies buying up some of the smaller producers. The result is an increased economy of scale and a reduced potential for price wars in the consumer market. Poultry producer prices increased an average of 8.2 per cent annually between 2000 and 2009.

Feed price increased 32 per cent in 2008 (from R2,648/ton to R3,502/ton) due to increases in the price of corn and soybeans. In 2009, feed prices fell to an average price of R3,326/ton, still higher than historical levels. South Africa's corn crop for the marketing year May 2010 - April 2011 is estimated to be the second largest ever recorded and with a record soya bean crop for 2009/10, possibly leading to lower feed prices in 2010.

The Rand exchange rate primarily drives broiler meat imports into South Africa. When the Rand appreciates against the US dollar, imports of broiler meat increase as meat imports become cheaper. Broiler meat imports reached 205,827 tons in 2009, up 7.8 per cent due to a stronger Rand. If the strong Rand continues further broiler meat imports are expected to reach almost 225,000 tons in 2010, or 17 per cent of local production. Brazil has more than 74.6 per cent of the import market.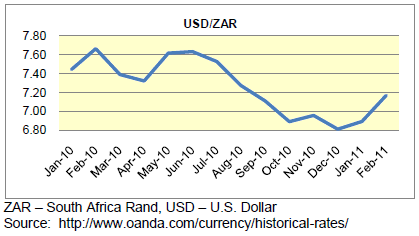 The Southern African Poultry Association (SAPA) is progressing with their investigation into Brazilian trade practices regarding poultry imports to South Africa, before deciding whether to seek anti-dumping duties on chickens for unfair competition. The industry is preparing a submission, which may take the commission as much as a year to assess. Under WTO rules, member states can impose import duties against dumping, in which companies sell goods abroad at below cost or at lower prices than in their home markets.

An anti-dumping duty against the United States for poultry products in tariff number 0207.14.90 (bone in cuts, include the chicken leg quarters) was instituted in 2000 for 5 years, reducing US exports to South Africa from more than 31,000 tons in 1999 to only 344 kg in 2005. The US poultry exporters applied to have the anti-dumping ruling reviewed in 2005, but SAPA opposed the application and the anti-dumping duty was extended to 2011.

In 2007 the South African Supreme Court of Appeal found the International Trade Administration (ITAC) had improperly calculated the timetable for doing an anti-dumping sunset review under South African law for a separate case, but the ruling is applicable on more than 70 products, including US poultry. That means anti-dumping duties on "bone in chicken portions" from the United States can be declared unlawful due to the legal sunset review not being performed timely.

The current 5-year anti-dumping duty on chicken meat portions imported from the US expires on November 26, 2011. The ITAC has notified all stakeholders that the last day for the submission of information is 21 April 2011. The South African Poultry Industry has already formally advised the ITAC that they will be applying for the extension so the need for continued protection can be reassessed prior to its scheduled expiry.

Sources: USDA FAS GAIN Report; news wires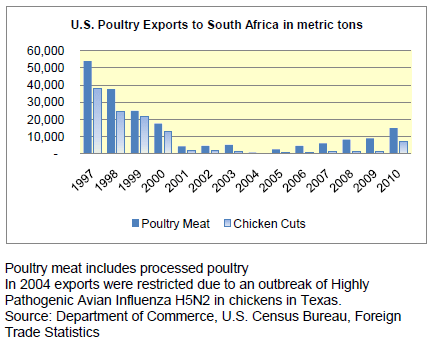 Further Reading