Goose Eggs in Strong Demand
UK - One of the largest suppliers of goose eggs is struggling to keep up with demand as consumers' appetite for niche products continues to grow.
Norfolk Geese is experiencing unprecedented demand for eggs from farm shops and other retailers as well as individual consumers.

"We've never seen this level of orders," says joint proprietor Eddie Hegarty, also chairman of British Goose Producers. "We used to sell eggs mainly for decorating, but the demand now is for eating them. We're dealing with orders from a dozen upwards."

The eggs are packed in wood shavings in a cardboard box with 'Fragile – eggs' marked on the outside.

"We hardly ever hear of any eggs being harmed in transit," he adds.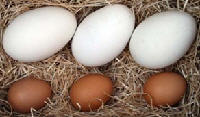 Goose eggs around three times the size of hen's eggs
Mr Hegarty and his family themselves enjoy goose eggs in omelettes, cake recipes and his speciality Yorkshire pudding.

'One cup of flour, one cup of milk and one goose egg' is his recipe, which translates to around 50g of flour, seasoned, and 150ml of milk to fill a 12-patty tin. Cook for 15 to 20 minutes.

He says BGP members around the country are also reporting buoyant sales with, for example, Howard Blackwell in Essex, trading as The Rare Meat Company experiencing a heavy demand.

For a list of goose egg suppliers and recipe ideas, click here.