International Egg and Poultry Review: Philippines
PHILIPPINES - This is a weekly report by the USDA's Agricultural Marketing Service (AMS), looking at international developments concerning the poultry industry. This week's review looks at the 3.72 per cent growth of the Philippines poultry industry in 2010.
According to the Philippines Bureau of Statistics (BAS), the poultry subsector grew by 3.72 per cent in 2010 and accounted for 14.93 per cent of total agricultural production. Chicken and chicken egg production has steadily grown over the past few years. In contrast, duck and duck egg production has steadily declined. Native chickens accounted for 47 per cent of the chicken inventory, broilers 34 per cent, and layers 19 per cent in 2010.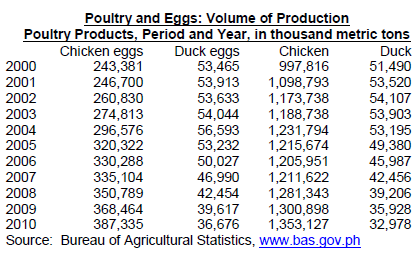 Chicken production grew by 4.01 per cent in 2010. The larger volume of broilers was due to expansion in stocking capacity and sufficient supply of day old chicks. Chicken egg production grew by 5.12 per cent; a higher inventory of laying flocks combined with increases in the egg-laying efficiency ratio of hens in several provinces. The downward trend in duck and duck eggs production continued with this year's declines of 8.24 per cent and 7.44 per cent, respectively. Duck egg production was constrained by lingering hot weather that resulted in low laying efficiency ratios.

The gross value of poultry production at current prices in 2010 totalled 152.1 billion pesos (PHP), up 4.80 per cent from 2009. The value of chickens rose 4.39 per cent, ducks 1.64 per cent and chicken eggs 7.16 per cent. The gross earnings of duck eggs fell 2.41 per cent due to lower production. Weighted average farmgate prices for poultry rose 1.04 per cent in 2010. The largest increase came in duck prices, from an average of PHP68.60 per kilogram in 2009 to PHP75.98 in 2010.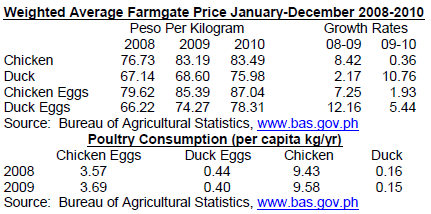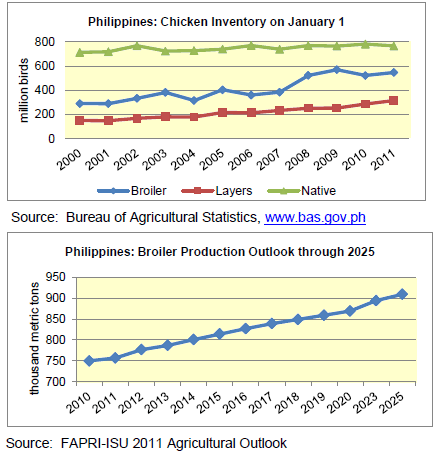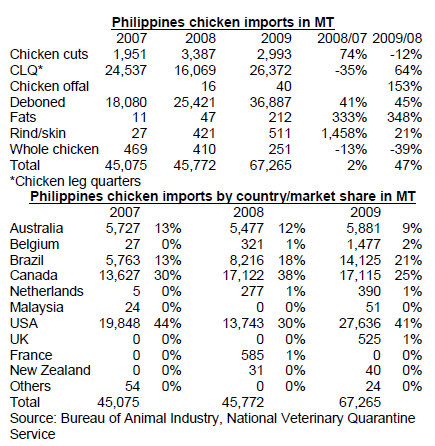 Chicken meat imports grew 47 per cent between 2008 and 2009. In 2009 the majority came from the United States (41 per cent), Canada (25 per cent) and Brazil (21 per cent). In 2009, the Philippine Department of Agriculture approved special importations of chicken of up to 8,000 metric tons (MT), exempt from special safeguard duties, which contributed to the increase in chicken trade last year.

Source: USDA GAIN Report, Philippines Bureau of Agricultural Statistics