Tips and Tricks for Cost-Effective Production
IRAN - Big Dutchman has held a series of conferences on cost-effective poultry production.
The topic of energy efficiency in poultry production currently plays an increasing role among Iranian poultry producers. The reason for this is the fact that the Iranian government is going to cut gradually back on subsidies. Therefore, Big Dutchman sales manager, André Mofid, together with Ali Jahedi, the company's sales representative in Iran, decided to organise conferences throughout Iran to further knowledge on cost-effective poultry production. More than 300 farmers have visited one of these conferences in Qazvin, Hamedan and now in Shiraz and Yazd with over 150 visitors.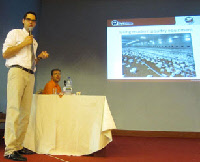 André Mofid discussing poultry production in Yazd
Best practices for poultry production
Next to the topic of lowering costs in poultry production and, in particular, of energy efficiency, the German expert touched on best practices for efficient broiler growing from hatcheries to the slaughterhouse. In this context, he also provided ample information on suitable equipment, based on the comprehensive expertise the German world market leader has been accumulating through the decades.

Mr Mofid explained: "By using complete poultry systems including housing system, feeding system and climate control by means of a computer, a farmer can save a lot of money in energy and feed, as well as labour costs."

The farm managers who attended showed great interest in detailed information on this issue. Most attendees were, for instance, unaware of the crucial role an optimum climate control plays in the first five days of a chicken's life.

"I have been in the business for 40 years but I have never been given such information by anyone," one of the farmers stated.
Poultry cage AviMax for broiler growing
The AviMax product family for broiler growing turned out to be of particular interest to the participants. The scope of different system types of AviMax is considerable: no matter whether broilers are to be housed in an icy or subtropical climate, whether it concerns an old building or plans for a new building, or whether a building is rather high or very low: Big Dutchman offers custom-fit, economic solutions for all needs.

In addition to the proven and tested climate solutions, the housing equipment supplier has furthermore developed a ventilation system which ensures an optimal house climate especially in regions with very warm weather. The results are optimum stocking densities while providing maximum headroom in the bird area, lower building and energy costs as well as optimum air exchange throughout the entire barn.

For more information on the AviMax poultry cage, click here.