Innovative Tray for Duck Eggs of All Sizes
NETHERLANDS - Pas Reform's innovative SmartTrayTM design is now available for use with duck eggs of any size, large and small, in the hatchery.
With specially shaped support points for the eggs, the open construction of SmartTray is proven to prevent the occurrence of 'dead spots' during incubation. This allows air to circulate freely and uniformly, creating optimal conditions for each individual embryo – and promotes ducklings of the highest quality.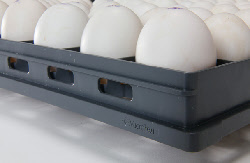 Ergonomically designed and lightweight for comfortable handling, SmartTray offers maximum protection for the eggs and incorporates lifetime Microban® antibacterial technology, reducing the risk of bacterial infection by 99.9 per cent. Equally suitable for farm traying, the HACCP-compliant setter tray is constructed of smooth, highly durable, impact-resistant polystyrene and is resistant to strong disinfectants.

Other features include:
stable, self-centring egg positioning to prevent eggs from sticking and breaking.
suitable for the highly automated hatchery: will withstand temperature changes and weight load for the lifetime of the tray.
safe, secure stacking: Blind find bottom design means SmartTray is easily and securely locked into position for fast, stable stacking.
completely smooth finish prevents the accumulation of dirt, and
UV-stabilised to prevent material deterioration.
For detailed information and SmartTray technical specifications, please click here.