International Egg and Poultry Review: Global
GLOBAL - This is a weekly report by the USDA's Agricultural Marketing Service (AMS), looking at international developments concerning the poultry industry. This week's review focuses on forecasts for broiler meat in 2012 across the globe.
Globally, broiler meat production is forecast to reach 83.1 million metric tons (MMT), about 3 per cent higher in 2012. The increase is attributed to strong domestic demand in Brazil and China; however the rate of increase is expected to be slightly lower than that of the preceding 2 years, due to high input costs and reductions in US production. World exports of broiler meat are projected to increase 5 per cent to a record 9.6 MMT, due to rising demand from Sub Saharan Africa, Southeast Asia, and the Middle East.

Production in Brazil, the world's leading exporter, is forecast to be 13.6 MMT (5 per cent higher). The increase is credited to the competitive pricing of poultry to other meats, strong domestic demand, economic growth, enlarging disposable incomes, an expanding middle class, and steady production costs resulting from ample feed supplies. Exports are projected to increase 5 per cent in 2012 to 3.5 MMT. Increased shipments to the Middle East and Venezuela, as well as anticipated economic growth and a rising population are credited as being the primary drivers. Brazilian imports are also expected to increase to the UAE with the construction of a new Brazilian processing facility in the country.

Chinese production is forecast at 13.8 MMT (5 per cent higher) in 2012. Production expansion is supported by larger breeding stock inventories, poultry's competitive pricing, robust domestic demand, increasing disposable incomes, economic growth, a growing middle class, reduced rates of reported diseases, and improving economies of scale through vertical integration. The rising broiler meat prices are expected to be more than offset by relatively high feed costs. In 2012, exports are expected to grow 9 per cent to 445,000 MT. China will continue to export primarily prepared and preserved products, due to its history and current status of disease outbreaks and their subsequent restrictions. Japan, Hong Kong, and Malaysia will remain major import markets for Chinese poultry.

Broiler exports from the EU are projected to reach 1.1 MMT (2 per cent higher). The slight rise in 2012 exports is due to high feed costs, increased competition, and reduced shipments to Russia.

In 2012, Mexican broiler meat production is predicted to drop 1 per cent to 2.9 MMT. High production costs are credited with being the cause of the reduction.

Broiler production in Russia is projected 9 per cent higher to 2.8 MMT in 2012. Subsidized feed costs, import restrictions, and continued investment are helping to drive the increase. Russia continues to reduce its tariff rate quota (TRQ) volumes limiting imports and supporting domestic production.

US, the world's largest broiler meat producer, is projected to drop 1 per cent in 2012 to 16.6 MMT due to constrained profitability resulting from low broiler prices in the face of high input costs. US exports are projected to rebound 2 per cent in 2012 to 3 MMT. The rise in broiler meat shipments is fueled by strong demand from Mexico, Asia (primarily South Korea and Hong Kong), and emerging markets in Sub Saharan Africa despite declining exports to Russia, due to a reduced TRQ.

Broiler production is also forecast higher in Argentina, Thailand, Turkey, and Ukraine in 2012 due to strong domestic and foreign demand, increasing investment, and good profitability. Thailand is expected to export 500,000 MT of broiler meat in 2012, which is 9 per cent higher than the previous year. Shipments will continue to be prepared and preserved products to mostly Asian markets, as well as to the EU.

Broiler meat exports from Turkey are expected to reach 193,000 MT in 2012, which is an increase of 27 per cent. Strong demand from the Middle East, mostly Iraq and Iran, will support the expansion of domestic production and generate the rise in broiler meat exports.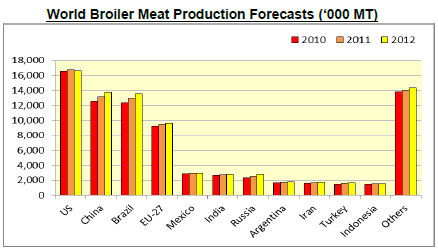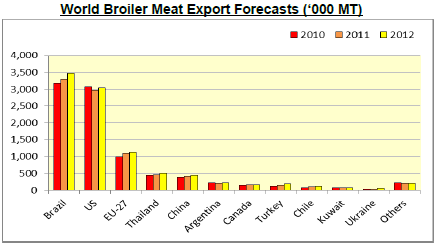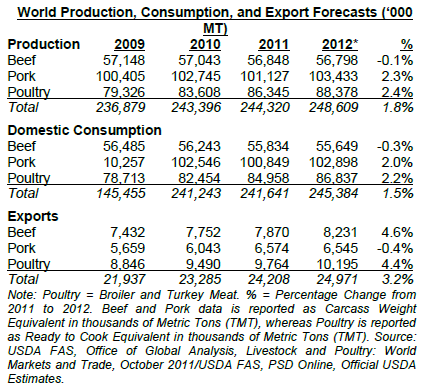 Further Reading