Ross & Rasun Tech Teams Connect Customers in Iraq
IRAQ - Ross customers in Iraq were once again, within a few months, given two further opportunities to connect with the Rasun and Aviagen Technical Support teams.
Two major seminars were recently held in Erbil, Kurdistan Iraq, during the Iraqi poultry show and were jointly hosted by Rasun, part of the Vano Group, the exclusive Ross GP distributor in the country and Iraq's most experienced Grand parent production company, and Aviagen. Both of these ground breaking seminars attracted a huge number of attendees.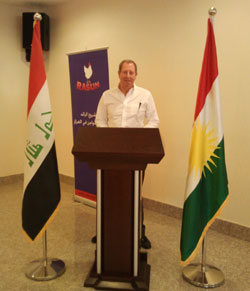 John Maguire, Ross Sales Manager for the Middle East and Africa
The first of these two significant events featured a key presentation by David Butler, Ross senior technical advisor on flock management. This customer meeting quickly followed on from a recent Aviagen/Rasun commercial seminar which highlighted Ross' growing customer base and the company's commitment to Iraq.

The second event took place at the University of Salahaddin in Erbil and included another presentation from David Butler on Critical Age Management for Parent Stock (PS). Vano Group has an ongoing partnership with the University after investing in innovation and supplying a University farm and hatchery earlier this year.

John Maguire, Ross Sales Manager for the Middle East and Africa, said: "The poultry industry in Iraq is steadily growing and we believe it is important to let our customers there know that we are here to stay. This was the first time our technical team to visit Iraq in person. These seminars now mark a critical step towards Aviagen being able to reach a large number of our customers directly."

Puzant Dakessian, Regional Technical Manager, added: "Thanks to the tremendous marketing, technical and veterinary support provided by Rasun and the Vano Group over the past six years, we have seen our market share continually increase and we are delighted to be the leading poultry brand in Iraqi Kurdistan."

Dr. Salah M. Bakir, Chairman and CEO of Vano Group commented: "The objective of the seminar was to stimulate lively discussion between the Ross and Vano Group team and our customers and to continue to build on our long-term partnership and success of the Ross brand in the region. We were delighted to see the Ross tech team personally introduced to our customers and are happy to see them provide continued technical support in the region."