Danisco Appoints New Business Manager
EU - Danisco Animal Nutrition has announced that in January 2012, former regional technical manager, Armin Vikari (PhD) took up the position of business manager covering Germany, Serbia and Ukraine.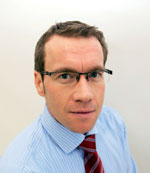 Armin Vikari (PhD)
Since joining Danisco in February 2011, Dr Vikari has been working closely with European business managers, and has contributed significantly towards developing sales of Enviva Essential Oil compounds, in addition to supporting Danisco's feed enzyme and Betafin business.

In his new role as business manager, Dr Vikari will provide technical and commercial support to Danisco's distributor Biochem and will be coordinating actions for the development of direct sales of Axtra enzymes, the Enviva EO and probiotics range and Betafin in Germany, Serbia and Ukraine.

Dr Vikari's previous experience and specialisation in natural growth promoters means that he is ideally placed to provide Danisco's customers with advice about the alternatives to antibiotic growth promoters, and the role that feed additives can play in lowering feed costs, maintaining good animal health and contributing to feed and food safety.

Dr Vikari will be based in the Netherlands and report to Kim Hjortstrøm, business director for northern Europe.