Hy-Line Appoints New Sales and Marketing Manager
US - Hy-Line International announces the appointment of Heather Hooper as Sales and Marketing Manager.
Her duties include managing the Hy-Line International website, advertising, public relations and promotional programs, trade shows, vendor relations and planning the Hy-Line International Technical School and visits from Hy-Line customers from around the world.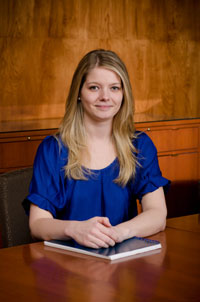 Heather Hooper
Ms Hooper is a graduate of Iowa State University where she studied Political Science. She has been involved in several state and national political campaigns as a Field Director and Caucus Coordinator.

Ms Hooper has a solid family history with Hy-Line International. Her grandmother, Marie Hooper, worked as a Laboratory Technician in the Egg Quality Laboratory for nearly 20 years. Heather's father, John Hooper, is a Hy-Line cooperator raising Hy-Line breeding flocks since 2001.

For the past year, she worked for Hy-Line as a Laboratory Technician in the Technical Services and Egg Quality Laboratories.