2000 S-line Incubators Sold and Installed
GLOBAL - Since the launch of the S-line range of single-stage incubators in 2010, over 2000 S-line setters and hatchers have already been delivered and installed all over the world.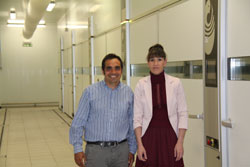 As a result, today nearly 2.4 billion eggs are set in S-line setters annually.

The 2000th incubator, a BioStreamer™ 12S setter, has been delivered to the company AN Sociedad Cooperativa, located in Navarra, Spain.