Brazilian Partner Companies Visit Cobb Global HQ
US - Representatives of some of the leading poultry producers from the Brazilian state of Parana enjoyed a high-level visit Cobb headquarters and field operations in Siloam Springs, Arkansas, USA.
Organised by Cobb-Vantress Brasil, the party involving delegates from C Vale – Cooperativa Agroindustrial, Coopavel - Cooperativa Agroindustrial, Copacol - Cooperativa Agroindustrial Consolata and Cooperativa Agroindustrial LAR, were given an insight into the global poultry industry from Donnie Smith, president of Tyson Foods, and Jerry Moye, president of Cobb.

"The visit provided an excellent opportunity to share experiences between our Brazilian company, our partner companies and senior Cobb and Tyson executives," said Jairo Arenázio, general manager for Cobb-Vantress Brasil.

Dilvo Grolli, president of Coopavel Cooperativa Agroindustrial, commented: "Tyson's management team is formed by people with many years in the company but with a young spirit. They are strongly committed to the organization and, for that reason, allowed for the integration of the company with its partners."

Irineo da Costa Rodrigues, president of Cooperativa Agroindustrial LAR, said the group appreciated the attention, clarity of information and help offered. "A trip like this not only brings us closer, but also makes customers feel more secure and provides a fuller understanding of the company's operations," he stated.

The group also visited the local feed mill, laboratories, poultry houses and hatcheries. As part of the program, they also met James Young, vice-president of Tyson international business, and Dr Mitchell Abrahamsen, vice-president of research and development for Cobb.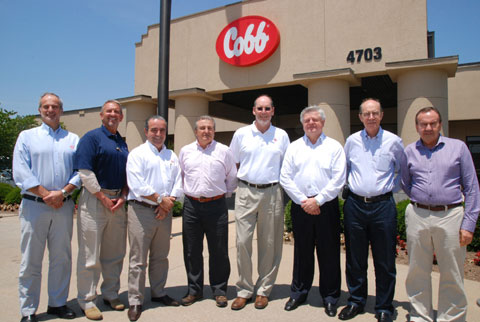 Brazilian visitors at Cobb - from left: Fausto Ferraz (Cobb Brazil), Stan Reid (Cobb), Jairo Arenázio (Cobb Brazil), Dilvo Grolli (Coopavel), Jerry Moye (Cobb president), Valter Pitol (Copacol), Alfredo Lang (C-Vale) and Irineo da Costa Rodrigues (Lar).