Koebrugge Farm Celebrates 25 Years as Ross PS Producers
NETHERLANDS - Aviagen EPI has surprised Ross customers Henny and Marianne Koebrugge-Mulder of Koebrugge Farm with a celebration of 25 years in business together. Based in a small village called Ambt Delden in the eastern part of the Netherlands Koebrugge was one of the first Ross broiler breeder farms in the Netherlands.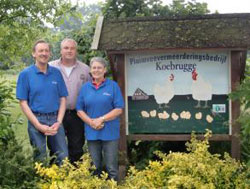 Over the past 25 years, Koebrugge bought more than 500.000 Ross broiler breeders. During these years the capacity of the farm has been increased from 5.000 females placed to the current 20.000 females placed.

The first flock of 12.000 Ross 208 birds was placed on May 31st 1987. Henny and Marianne were initially placing three flocks of 5000 females/ year. The rearing was done in one house and the egg production in two other houses at the same farm, and every 16-17 weeks a new flock was placed. During the period 1996 to 2000 Ross 508 was their breed of choice and from 2000 until now it has been Ross 308.

Marianne said: "Unfortunately we had to switch from set up in 1994, because of the demand for bigger flocks of the same age, by the hatcheries. The cash flow with that type of set up was easier and we could influence our own pullet quality and thereby our results. Because of this, we nowadays make agreements with one rearing farm who always rears our pullets."

To the question why they changed to Ross in the first place, Henny said: "you always have to take into account, what the demand is of the market. That time in 1987 broiler results became more important and the hatcheries were asking for these type of birds. Presently in 2012 we experience still similar demands for the same breed."

Maurice Sander, Aviagen EPI, said: "We're delighted to have given Marianne and Henny this surprise. They have worked very hard over the years and should be proud of their achievements. We just wanted to show how much we appreciate the work they have done.

"Koebrugge does produce under a high hygiene standard and their results are always found in the top quartile or very close to this demonstrating the value in their hard work to produce quality birds.

"We as Aviagen-EPI would like to thank Henny and Marianne Koebrugge for their trust in our products and the positive support in several aspects during the past years. We hope to be in business together for another 25 years."

Farm Koebrugge is not only a hatching egg production farm but also acts as an instruction farm for students and trainees of other companies. Marianne has always been involved with and has been president in many local and regional agricultural and poultry organisations and with her wide knowledge she can lead and support many discussions on a wide range of subjects.

Marianne and Henny have extended their hospitality to visitors from all parts of the world. As early as 1987, Ross Breeders came with visitors from the Middle East. They were always prepared to train future broiler breeder farmers and many of them, recently mainly German farmers, got practical training at Koebrugge farm.