Welfare and Economic Implications of Feather Pecking
AUSTRALIA - Feather-pecking and injurious pecking behaviours represent serious welfare and economic challenges for the egg industry. This is particularly a problem for barn-laid and free-range egg producers compared to conventional cage-egg producers.
With support from the Poultry CRC, Ms Kate Hartcher, a University of Sydney Master's degree student, aims to investigate the rearing environment of free-range laying hens, and relate this to injurious feather-pecking behaviours.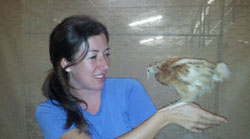 Masters student Ms Kate Hartcher
Kate is conducting detailed in-situ observations of the birds' behaviour in their home pens, as well as a variety of standard behavioural tests conducted away from the home pens. Stress levels are being quantified by stress hormone metabolites (corticosterone concentrations) in the faeces and in the egg albumen. Birds are screened regularly for feather and skin condition and weighed to monitor growth. In addition, flock uniformity and egg production are recorded throughout the laying period.

Experimental factors under assessment are; beak-trimmed versus non beak-trimmed, and environmental enrichment versus no environmental enrichment. Environmentally enriched pens will have a greater depth of floor litter; include whole grain oats raked into the litter to stimulate foraging behaviour, and have pecking-string devices suspended at bird head level.

Kate explains, "The project is still in its infancy, as it has only been running a few months. The behavioural testing has been conducted for the rearing period, but the data has yet to be analysed to reveal whether or not there are clear trends or significant differences in behaviours between the different treatment groups." This is an ongoing trial, and Kate will be comparing data collected during the rearing period with data collected in the laying period. "Hopefully we will find some clear patterns as we continue with the project," said Kate.

As there is an increasing consumer preference for eggs from non-caged hens, there is also an increasing number of free-range hens in Australia. "These combined methods (behavioural testing etc) will contribute to the egg industry by yielding an improved understanding of the causes of feather-pecking behaviours in laying hens, as well as recommending rearing practices and appropriate management strategies to reduce the occurrence of the behaviour," concluded Kate.

Kate has a strong interest in animal welfare and behaviour, and hopes to pursue a career in this field (in particular related to livestock production). She graduated in 2010 with an Animal and Veterinary Bioscience Honours degree from the University of Sydney.

As Kate comments, "Throughout my degree I was involved in a variety of professional experience placements in various fields such as animal welfare, research, conservation and agriculture. I completed my honours research project in 2010 on corticosterone concentrations in the albumen of abnormal eggs under the supervision of Dr Jeff Downing, and was awarded the Poultry Research Foundation Prize in Animal Science on graduation. Although I have always been interested in working in animal welfare, this [project] gave me a stepping stone to become involved in the field of research."