2012 Harvests at Risk from Mycotoxins
UK - We knew it would happen, after a wet Diamond Jubilee, Wimbledon and concerns about the Olympics, this year's harvest was bound to be at risk from mycotoxins.
A recent UK report confirms that Fusarium infection on leaves has been identified in wheat crops in the west of the country for the first time that plant pathologists can remember. Fusarium development has been favoured by prolonged periods of wet weather. Leaf lesions are mostly the Microdochium species, largely Microdochium nivale, however, this fungus has been called by a variety of scientific Latin names including Fusarium nivale. Although M. nivale doesn't produce mycotoxins there is also evidence of Fumonisin culmorum present in the lesions, and this does produce mycotoxins.

Several Fusarium species produce mycotoxins.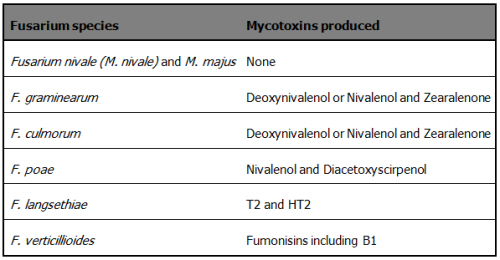 Leaf infections are a strong indicator of a problem in the ear and almost 90% of ear samples taken so far are infected with M. nivale. It is therefore highly likely that the grain will be contaminated with Fusarium species which means that there is higher than average mycotoxin threat from UK cereals expected this year.

Fusarium species are typically seen as pink moulds developing on the standing crop.

Possibly the best known of the Fusarium mycotoxins are Zearalenone and T2 toxin. However Fumonisins are becoming better understood and although most data suggests pigs are more susceptible to these toxins it is likely that they affect poultry as well.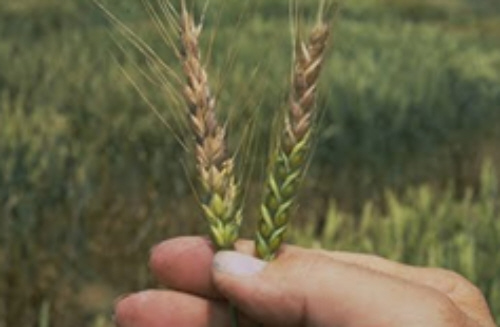 The wet weather also results in problems if grains are harvested moist, or even if just small patches of grain are moist, as this can lead to the growth of Aspergillus species post-harvest with the development of aflatoxins and other mycotoxins, Aspergillus strains actually produce close to 400 different toxins.

The major concern for poultry producers is when mycotoxins occur together. Several mycotoxins have a synergistic or additive action with other mycotoxins making them even more toxic to poultry. This is often due to one mycotoxin, like aflatoxin affecting liver function and the liver then being unable to detoxify the other mycotoxins present.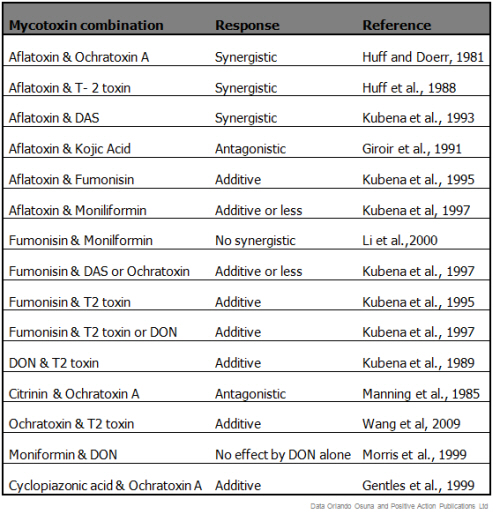 Mycotoxins are ubiquitous and impact performance at every level. Many mycotoxins are present at sub-clinical levels that have diverse effects on animal production from endocrine or immune responses to loss of appetite and uneven growth.

As no mycotoxins are likely to exist in isolation the need for a multifunctional approach is essential. The effects of these mycotoxins are varied so identification of the causes of problems is difficult which makes it sensible to use a low inclusion product to reduce all forms of mycotoxins below sub-clinical levels.

Optivite have undertaken a considerable number of trials to identify the optimum binder to eliminate problems from a broad spectrum of mycotoxins. It was essential that any product did not, however, interfere with veterinary therapies, vaccines and anticoccidials, nor should it trap vitamins or other nutrients.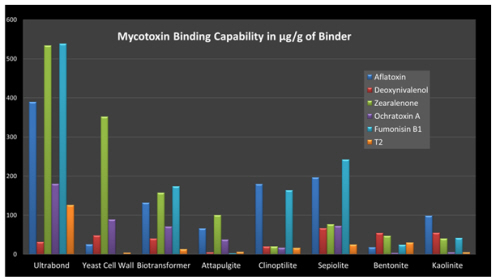 In addition to the mineral activity, Ultrabond contains four anthocyanins and other phenols that have a strong antioxidant effect. These antioxidants not only help the liver carry out its cleansing processes, but they also serve to protect the liver from excessive free radical damage.

Since the liver is the chief detoxification organ in the body, maintaining liver health is vital.

"Our research to compare mycotoxin binders clearly identified a silicate binder that gave a consistently broadest spectrum of activity against all the major mycotoxins", said Optivite's Sarah Osborne. "We have further enhanced the benefits of the product by incorporating selected bioflavanoids therefore Ultrabond does not just control an existing problem but helps the bird to maintain optimum liver function during, and after, mycotoxin challenge to ensure that animal performance is not compromised."

For further information and a copy of the Ultrabond brochure please call 01909 537380 or email [email protected]