Cobb Premier Breeder Award to Major Russian Producer
RUSSIA - One of the largest poultry producers in southern Russia, GAP Resourse, has been presented with one of Cobb's awards for premier breeder performance.
GAP Resourse has achieved an average 135.4 chicks / breeder to 63 weeks of age and 133.1 chicks / breeder to 61 weeks in flocks on its Druzhba and Novokorsunskaya sites. Hatchability averaged 84 per cent and livability 98 per cent.

The plaque celebrating the achievement was presented to Pavel Ivanenko, chief technologist for broiler breeders with GAP Resourse, by Patrick van Trijp, Cobb Europe regional manager.

GAP Resourse has been using Cobb500 parent stock since the first order for 95,000 in 2008. The enterprise has 10 breeder and 22 broiler farms, and is producing more than 100 poultry products sold through its own distribution network and leading retailers from Moscow to South Sakhalinsk.

"It is easy to manage a good uniform Cobb flock," says Pavel Ivanenko. "All the birds can be stimulated at the same time, and it is easy to achieve 85 percent peak production with 84 per cent hatchability.

"It also helps that Cobb carries out technical training for our specialists. Cobb consultants are quick to organise seminars and training for the workers of our group's enterprises."

Patrick van Trijp added: "GAP Resourse has been achieving good results with the Cobb500 for several years and last year turned in the best breeding performance results among all customers of the breed in Russia. The enterprise is driving forward with its expansion plans and we look forward to helping them reach new heights."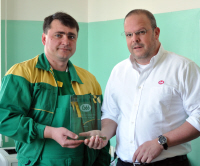 Patrick van Trijp, [right] Cobb Europe regional manager, presenting the award to Pavel Ivanenko, chief technologist for broiler breeders with GAP Resourse