Space-Ray Introduces Tube Heaters with Safety System
US - Space-Ray has introduced a line of positive pressure radiant gas tube heaters with an innovative, patented Tube Integrity Safety System (TISS), that provides additional safety for poultry houses.
The TISSTM system is offered only by Space-Ray.
Available in natural or propane gas, the new PCA/PCS Series Radiant Gas Tube Heaters from Space-Ray saves in fuel costs, reduces maintenance and permits higher mounting in the poultry house for broader coverage and added efficiency.
The Space-Ray PCA/PCS Tube Heaters use positive pressure to push products of combustion through the heavy-duty, calorized, aluminized steel combustion chamber. Calorized or heat-treated emitter tubes are offered as an option by Space-Ray. Calorized tube material offers improved corrosion resistance and greater radiant output.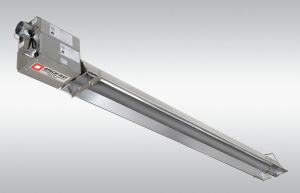 The PCA/PCS Series use positive pressure to push products of combustion through the heavy-duty calorized aluminized combustion chamber. Capacities range from 75,000BTU/hr (22kW/hr) to 150,000BTU/hr (44kW/hr).
The tube heaters come with a choice of one-stage or two-stage input controls for added flexibility and a totally enclosed burner box that places all the power, thermostat and gas connections in one central location for easier installation and maintenance.
CSA-Certified, the PCA/PCS series is ideal for new installations or for retrofitting existing competitive push through systems. They are also certified to take fresh air for combustion from above or from the side.
Five models available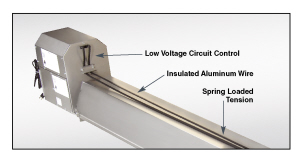 Unique to the new line of PCA/PCS Series is a patented Tube Integrity Safety SystemTM (TISS) that automatically shuts off the heater in the unlikely event of a tube failure for added safety.
The PCA/PCS Series heaters are available in five models and numerous configurations. Capacities range from 75,000BTU/hr (22kW/hr) to 150,000BTU/hr (44kW/hr). Lengths vary from 20ft (6.1m) to 60 ft (18.3m), depending on the model selected.
Space-Ray recommends that PCA/PCS Series heaters be mounted as high as possible in the poultry house. Heaters can be mounted 12 in. (30.5cm) to 18in. (45.7cm) from the ceiling. Minimum mounting heights vary from 6ft (2m) to 9ft (3m) from the ground.
Patented TISS System
Unique to the PCA/PCS Series Poultry Tube Heaters is the TISS, a patented system that automatically turns off the heater in the unlikely event of a tube failure. With the TISS system, an insulated aluminum wire is positioned in tension above the reflector. A low voltage circuit control continuously monitors the clearance between the reflectors and the ceiling for excessive heat and tube integrity compromise.
If the heat increases due to heat exchanger failure, the wire melts, the safety circuit is broken and the gas controls shut down.
"We decided if we introduced a positive pressure system to poultry houses, we would take steps to assure the integrity of the system and provide the ultimate in safety," noted Wilf Jackson, Sales Director for Space-Ray.
"We wanted a system that was safer than any other model on the market today. The TISS provides peace of mind. It may never be needed but in the unlikely event of a tube failure poultry house owners will be pleased that they have a TISS system."
Other features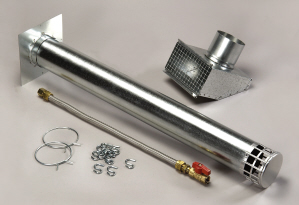 Space-Ray PCA/PCS Series come standard with wire hangers, "S" hooks, an all metal ceiling fresh air intake kit, an exhaust hood, end cap reflectors, a manual cut off valve and a 36in. (92cm) flexible gas connector.
Included as standard on the PCA/PCS infrared poultry heaters is a totally enclosed burner box that includes the blower motor and a heavy-duty cast iron burner for strength and reliability. Other standard features include an all metal fresh air ceiling intake, an external 24V thermostat connection and a three prong power cord connection - all designed to minimise installation cost and add to installation flexibility.
Also standard are a step opening combination gas valve for quiet operation and added safety, a ½-inch MPT gas connection and monitoring light systems for trouble shooting in case maintenance is required. A 36-inch long stainless steel gas connector is also included with each heater.
A heavy-duty ball bearing blower motor comes permanently lubricated to reduce maintenance and does not require any lubrication for the life of the motor.
With highly efficient aluminum reflectors, the heaters have a high reflectivity rating of 97.5 per cent. The reflectors totally cover the emitter tubes for uniform energy distribution on the poultry house floor, maximum emitter tube temperature and minimum convection loss. Individual reflectors can be rotated up to 45° to direct the heat where needed. A heavy-duty reflector support hanger adds to the durability of the unit.
Each Space-Ray PCA/PCS model comes standard with "S" hooks, an exhaust hood, a 36in. flexible gas connector, a manual shut-off valve and an all metal fresh air intake. An optional Cold Air StopperTM system stops cold or hot air from entering the poultry house, even when the heaters are not in operation. Cold Stopper also helps to reduce sweating problems.