CobbSasso Meets Demand for Higher Welfare
GERMANY & THE NETHERLANDS - Growing interest in free-range chicken in Germany and the Netherlands has led to the introduction of the CobbSasso breed into these markets.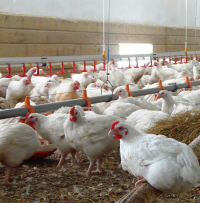 The demand for slower growing chickens reared more extensively represents a niche market that is becoming more significant in both countries where animal welfare is influencing consumer choice.

The introduction of the CobbSasso 175 follows the move into Hungary two years ago where the product is aimed at the 'certified' and 'intermediate' sectors of the market.

Last year one of Germany's leading producers, Wiesenhof-Privathof, launched a new brand based on the breed for chickens reared on free range, organic and other higher welfare systems.

The CobbSasso 175 is a coloured chicken bred from a rustic brown female and a white male, with around 10 per cent of the broilers having brown feathers and providing distinctive colour markings.

It is a slower growing breed that offers producers a wider choice for supplying the market with chickens reared to higher welfare standards using either indoor and free-range systems.