Aviagen Sponsors Alberta Breeder Workshop
CANADA - Aviagen, Inc. was the anchor sponsor for 7th consecutive Alberta Breeder Workshop held on 2 to 4 October 2012 in Airdrie, Alberta.
Organised by the Government of Alberta Agriculture and Rural Development, more than 70 poultry industry professionals representing every region of Canada were registered for the event – over twice the number attendees originally anticipated.

The workshop themed "Setting the Stage for Success: Managing Breeders in the 21st Century," was focused on sharing knowledge, collaboration, and best practices in broiler breeder management.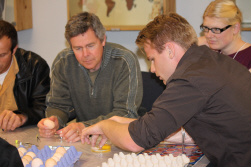 The intense three-day programme featured more than seventeen presentations from academia, poultry production specialists, and allied industry on a variety of critical areas for successful production.

Workshop attendees included hatching egg producers, hatchery and feed company representatives, as well as other poultry professionals.

Participation by so many qualified presenters from Aviagen, Ceva, DSM, Lilydale Foods, Poultry Health Services, and the Universities of Alberta and Georgia captivated the audience with a broad topic range including summer and winter ventilation, litter management, barn management, fertility, coccidiosis, male management, female management, nutrition, integrated health management, and production output.

"Working together with the Government of Alberta, Aviagen is once again proud to sponsor the breeder workshop," said Canadian Regional Business Consultant for Aviagen Scott Gillingham.

"Together we share a common commitment of support and education that is focused on breeding success for poultry producers throughout Canada."

This project was sponsored by Growing Forward, a federal-provincial-territorial initiative.