British Turkeys Break New Ground for Thanksgiving
UK - One of the premier British Christmas turkeys goes on the market in the United States for the first time this week for the Thanksgiving festival on 22 November.
The KellyBronze, which has won a succession of awards for its eating quality, is being sold through butcher's shops in Washington as a trial marketing exercise.

Paul Kelly has been in the USA over the past week helping to get the venture off the ground - and has faced many astonished faces as he's gone about the task.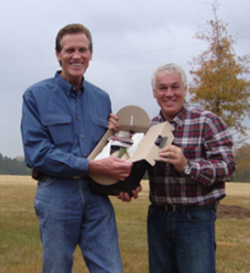 Paul Kelly (right) presents Bruce Cuddy, past president of the American Turkey industry, with a KellyBronze turkey for Thanksgiving.
"The first challenge was to find people to hand pluck turkeys," said Paul. "Our artisan method of plucking a turkey by hand with no water amused the locals in Virginia. They thought we were completely mad.

"The turkeys looked fantastic and I was really pleased with the quality. I ate one before I left on Saturday evening and it was superb. We need to use maize in the ration instead of wheat, and so I was concerned about any effect on flavour. But I needn't have worried.

"We are supplying three butchers shops in Washington and look forward to getting feedback on Friday morning! I must say a big thank you to Jamie Oliver who has helped us enormously to spread the word among his friends in the US food world. So we'll be getting feedback from some of the top chefs and food critics on the East Coast."

Paul Kelly said the KellyBronze product is being launched into a market where US supermarkets sell turkeys as a loss leader at Thanksgiving, so the turkeys they are producing in the US are bound to look very expensive. In addition, the black feather stubs in the bronze turkey will be an issue with US consumers used to a 'bleached looking' white turkey.

He added: "We are actually taking New York dressed turkey - as it's known in the trade - back to the US where the tradition started when birds were sent plucked but with guts intact from the Mid West to the East Coast. It was the safest way to make the long journey.

"Due to cost of hand plucking and hanging, the practice gradually stopped. For many years now there has been no dry plucking in the USA, so the skills needed are no longer in the country."