Ovobrand Focuses on Quality Production
US - Dr Gustavo Von Bassenheim, CEO of Ovobrand, recently toured Hy-Line International facilities and engaged in discussions with Hy-Line management.
Ovobrand is a progressive Argentinian company that encompasses a feed mill, pullet rearing and layer farms, as well as egg grading and egg processing plants. This innovative company produces a variety of egg products including egg powders, liquid products and specialised custom blends.
Hy-Line is privileged to have the confidence of Ovobrand as demonstrated by 100 per cent use of the Hy-Line W-36 in the operation. Cabaña Avicola Feller, part of the Grupo Motta, enjoys a close working relationship with Ovobrand and supplies the company with day-old chicks.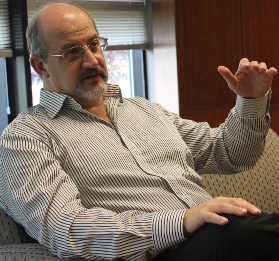 Dr Gustavo Von Bassenheim explaining the importance of biosecurity