Morocco's Groupe Casa Grains Chooses Petersime
MOROCCO - Groupe Casa Grains has constructed two new hatcheries in the Rhamna area, 50km north of Marakkech: a layer and a broiler hatchery, both equipped with Petersime incubators.
Mohamed El Yakoubi, Commercial Director at Casa Grains, is in charge of the project.
The layer hatchery, which was commissioned in 2013, is now equipped with 12 conventional S576 setters and nine conventional H192 Cleanway hatchers, all of them vision-controlled.
At this moment, eight additional setters and two hatchers are being shipped to the hatchery for installation at the beginning of 2014. Eventually, the layer hatchery will be equipped with a total of 24 setters and 18 hatchers.
The broiler hatchery, also constructed in 2013, houses 20 conventional S576 setters and 18 conventional H192 Cleanway hatchers.
Petersime also supplied FocusLink™ software as well as HVAC equipment to both hatcheries.
According to Jean Marino, local representative of Petersime distributor Cidape in Morocco, the client opted for Petersime because of the high quality equipment with maximum performance.
He said: "Moreover, the continuous presence of Petersime distributor Société Cidape and his local representative guarantees quick access to spare parts."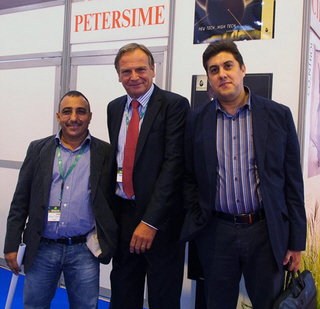 From left to right: Mohamed El Yakoubi (Commercial Director of Casa Grains), Christophe Vinchon (Société Cidape) and Ahmed Mousstaaid (Director of Casa Grains)