Project in Russia Entirely Equipped by Vencomatic Group
RUSSIA - In December 2013, European Biological Technologies LCC - based in Samara in Russia - visited the Venco Campus in Eersel in the Netherlands to complete a deal the two companies signed earlier in the year.
On Wednesday 4 December, European Biological Technologies LCC (Samara, Russia) visited the Venco Campus to propose a toast on the deal they signed earlier in the year.
On 18 September, the Vencomatic Group and European Biological Technologies LCC agreed a project for the construction of a highly-efficient, modern poultry complex, with a capacity of 50,000 tons of broiler meat per year. Vencomatic Group (Eersel, the Netherlands), known for its innovative and sustainable systems within the poultry industry, will equip the entire project. Activities start in April 2014 and will be completed by March 2015.
The project consists of several breeder, rearing and broiler sites in Kalynovka and Kabanovka, Russia.
The project starts with the construction of six broiler sites with 18 buildings each. These sites house over 4.3 million broilers.
In a later phase, six breeder sites with five buildings each will be built for 290,000 bird places. At each location, eggs of all five houses are transported to a central egg collection area (50,8 million eggs per year). This design reduces human contact with the eggs to a minimum. Prinzen egg handling machines ensure an 99.8 per cent points-down setting of eggs in the setter tray, resulting in better hatchability.
The project also foresees the rearing of 183,000 breeders on three sites existing of three houses for female birds and one house for male birds. The rearing houses are equipped with winchable platforms, thereby creating substantial extra living surface for the birds. The platforms also allow free movement on varying levels, and trains the birds to jump. This encourages natural behavior from an early stage.
With this project, European Biological Technologies LCC will create a state-of-the-art poultry facility, with full control over the poultry meat production process. Further development of the project aims at an annual production of 130,000 tons of poultry by 2018.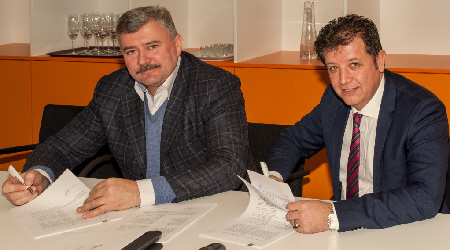 Director Konstantin Vladimirovich Pozmogov (Director of European Biological Technologies LCC) and K. Yaqut (Sales Director CIS and Middle East for Vencomatic Group) signing the contract