TJ4200 TopJet 4-Way Gravity Attic Vent from Double L
US - The TJ4200 TopJet 4-Way Gravity Attic Air Vent from Double L Group, Ltd. mixes warm air from the attic with house air along ceiling for better tempered air mixing and prevents downdrafts or chilling of birds.
Great for precise manual control of air movement, the patented TJ4200 TopJet Attic Vent is counterbalanced and gravity controlled for minimum ventilation.
The all-season, TJ4200 4-way Attic Vent has a revolutionary, patented design with counterbalance louvres that open from the top, directing air along the ceiling and holding the air currents up longer, all while evenly mixing the warm attic air with the room air. This tempers the air for more uniform house temperatures during minimum ventilation.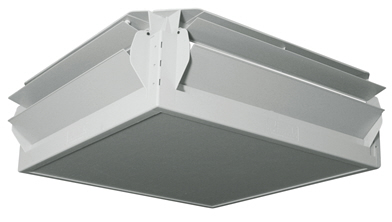 The TJ4200 Attic Vent helps growers maintain higher ventilation rates during cold weather without sacrificing house temperatures or wasting fuel. This leads to drier litter, lower fuel costs, lower ammonia concentrations and less bird stress.
The TJ4200 has counterweight rods that pull louvers closed when fans are not operating. In operation, shut-off flaps work with louvers to direct air along ceiling and flaps can also be folded down for permanent shut-off. Easy snap together construction, the TJ4200 requires no tools to assemble and is easy to operate / maintain. Does not rust or corrode.
The TJ4200 supplements poultry house sidewall inlets to provide an automatic supply of tempered air during the early stages of minimum ventilation without the need for a winch. In tests, the total amount of air moved through a poultry house with attic vents averaged 10 to 30 percent higher per day than houses with sidewall vents only.
The TJ4200 framed opening is 22.5 inches × 22.5 inches and performs at 1,812cfm @ 0.125 static pressure.
To view more information, including 3D video simulations, please visit
www.doublel.com/tj4200-ceiling-air-inlet.html.